Two runners have been praised after saving the life of a man last night after he jumped off the Tamar Bridge.
Sergeant Ryan Canning was called to the bridge around 8pm and found a group of runners talking to the man who was on the wrong side of the walkway railings.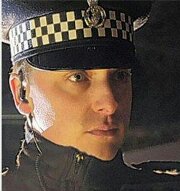 Despite negotiations the 24-year-old man jumped into the freezing waters of the River Tamar below.
Two of the runners,  aged 16 and 39, had seen events unfolding and had already made their way down to the water's edge, they bravely entered to water and kept the man afloat until help arrived.
So proud of our members Dan Pengelly and Jason Hingley who saved a man"a life last night

— TamarTrotters (@tamartrotters) January 28, 2015
The Ministry of Defence Police launch and response team was soon on the scene and managed to collect both the injured man and the two members of public.
Sergeant Canning, based at Devonport, said the heroic actions of the two runners undoubtedly saved the man's life.
"A group of runners from the Tamar Trotters stopped to help the man. By the time I arrived it was clear that he was in a distressed state and there were difficulties in trying to talk to him," he said.
"As further assistance arrived, two of the runners made their way down to the water's edge and located a life buoy.
"Unfortunately the man did jump and was very lucky to have survived the fall. However, he would have surely drowned if it wasn't for the actions of these men who were already by the water and went in to keep him afloat.
"After all these years as a police officer, and just when you think you've seen it all, someone comes along and restores your faith in humanity. These men swam out in the freezing water to save the life of someone they had never met and kept that person safe. Absolute heroes – very brave lads."
The casualty was taken to Derriford Hospital after sustaining leg injuries and suffering from exposure.