School children from Exminster Primary school got to see RNLI volunteers in action after Shannon class lifeboat R and J Welburn was launched during their visit to Exmouth Lifeboat station yesterday.
Shannon class lifeboat R and J Welburn launched at 12.29pm to a 27' motor cruiser in difficulty 2.2 miles south of the lifeboat station. The vessel had become entangled with a pot buoy couldn't move.


48 visiting schoolchildren from Exminster Primary School were evacuated from the lifeboat station when the pagers sounded. They cheered as the Shannon launch and recovery system progressed down the ramp and onto the beach.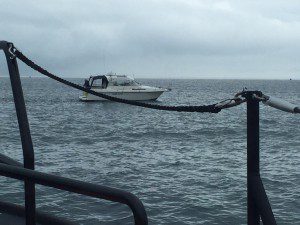 A spokesperson for Exmouth RNLI said
"Within 11 minutes, the crew were on scene and discussed the problem with the owner. It became clear that a floating rope attached to a pot buoy had wrapped itself around the steering mechanism.
"The rope was cut and R and J Welburn stood by whilst the skipper of the motor cruiser tested the engines and steering and checked for leaks. Once everything was satisfactory, the owner chose to continue and the Shannon class lifeboat returned to the lifeboat station at 1.32pm."