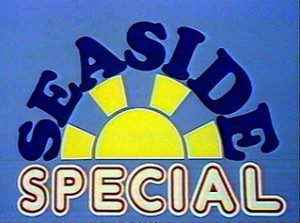 "Come on down to the Summertime Sound,
Kick off your shoes,
'Cos Summertime City,
Ain't got the summertime blues."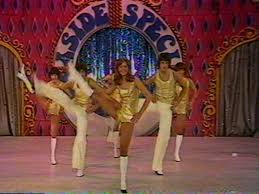 Seaside Special was a long-running 1970s BBC 1 light entertainment programme developed by producer Michael Hurll. It was an outside broadcast and filmed in a big top in a range of British seaside resorts, with an occasional outing to France. Originally the big top belonged to a circus – mainly Gerry Cottle's – though in later seasons the BBC purchased its own.
At around an hour long, it was essentially a variety show, featuring a music act, a comedy act, and dancers New Edition. Hosted by Radio 1 and Radio 2 DJs, in 1977 the Torbay Special presented the final of the Miss Seaside Special 1977 Natural Beauty Contest. A number of Seaside Specials were produced in the Bay. For example, Abba visited England in October 1975 to appear on the show:
Some segments of the show were filmed outside the big top. Here's Abba again on Torre Abbey Meadows:
The show's theme, Summertime City, written and sung by Mike Batt, was a UK Top 10 hit in 1975. Here's Mike Batt with the incomparable Pan's People on Top of the Pops. I had a bit of a quandary here. As this was a seventies Top of the Pops' clip Mike Batt is introduced by the odious Jimmy Savile. We now know what Savile was. I decided to include the clip as the other featured performers shouldn't have to suffer unfairly just because they're in the same show. Indeed,  in July 1978 Rolf Harris appeared in a Bay Seaside Special. Comments on this would be welcome. Should we airbrush Savile and Harris  out to forget them or should we see how close they got to the top of the entertainment and political establishment?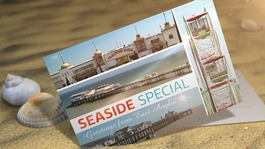 Anyway, the following clip does begin with Jimmy Savile. Don't watch if this offends:
Though it was very popular at the time, many now regard Seaside Special as among the very worst of 1970s television. Nevertheless, the show was briefly, but unsuccessfully, revived in the 1980s.
Here's the dates and a list of the performers of the 1970s Torbay Seaside Specials:
5 July, 1975: The Moran Family (a British Jackson Family, apparently)
12 July, 1975: The New Seekers, Clive Dunn, Peters & Lee, Aleister Crowley (!).
26 July, 1975: Not known
2 August, 1975: Not known
9 August, 1975: Winsor Davies and Don Estelle (from It Ain't Half Hot Mum) singing Whispering Grass, Ronnie Corbett, with hosts Mike Read and David Hamilton
16 August 1975: MCs Pat Dailey and Bill Wayne (later edited to show Tony Blackburn doing the introduction), Lulu, Kenneth McKellar, Des Lane, and Abba
23 August, 1975: Not known
30 August, 1975: Not known14 August, 1976: Vince Hill, Roger de Courcey & Nookie the Bear, Patton Brothers, Fivepenny Piece, Jodie Grey, Alan Stewart, Peters and Lee, New Edition
21 August, 1976: Roy Hudd, Moira Anderson, Don Maclean, Black Abbots, Sidney Devine, Wayne King, hosts Tony Blackburn, Dave Lee Travis, David Hamilton, Paul Burnett, New Edition
28 August, 1976: Nicky Benton, Peters and Lee, Larry Grayson, Frankie Vaughan, Roy Hudd, Diane Solomon, Wurzels, Fiddlygig, Terry Turner, New Edition
20 August, 1977: The Final of the Miss Seaside Special 1977 Natural Beauty Contest, Jeff Phillips, Tony Blackburn, Vera Lynn, Jim Davidson, Wurzels, Tony Selby, Patton Brothers, host David Hamilton, New Edition
8 July, 1978: Little and large, Caterina Valente, Sheila B Devotion, Brotherhood of man, Showaddywaddy, Hoppe's Unrideable Mules (!)
15 July, 1978: Clive Webb, Boney M, Joe Dassin, Plastic Bertrand, Matia Bazar, Ian Dury, Roy Walker, Peter Hudson
22 July, 1978: Marti Caine, Roy Castle, Jean Vallee, Brother Lees, Black Gold, Colin 'Fingers' Henry, Inarros Sisters
29 July, 1978: Rolf Harris, Nicole Croisille, Smokie, Bernie Clifton, Stu Francis, Paul Nicholas, Charivari
5 August, 1978: Jim Davidson, Roger De Courcey and Nookie the Bear, Berni Flint, Larry Parker, Samson and Delilah, Udo Jrgens, Annie Cordy
12 August, 1978: Not known