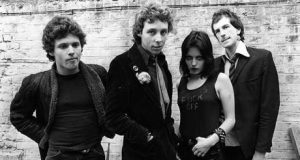 "Gary don't need his eyes to see, Gary and his eyes have parted company".
For years there were stories that one of the most notorious punk bands of the 1970s were from Torquay. These were The Adverts and there is certainly a Torquay connection – two of the band's members studied Art at the original South Devon College of Arts and Technology on Newton Road.
The Adverts were a punk band who formed in 1976 and broke up in late 1979. They were one of the first punk bands to enjoy chart success in the UK. Their line-up included Gaye Advert, whom The Virgin Encyclopedia of 70s Music called the "first female punk star", so establishing the genre's ability to involve women.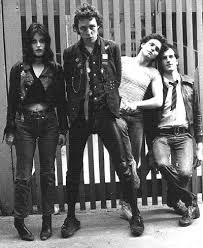 The band was formed in 1976 by TV Smith and Gaye Advert from Bideford, who later married. TV Smith was interviewed in 2001: "I'd been writing songs since I'd been in school, where I had a band that sometimes played in the lunch hour! We graduated to booking local village halls and putting on gigs. When I moved to Torquay to do a year at Art College there, I started my first 'real' band, called Sleaze. It was pretty glam sounding, pretty dreadful actually, but at least all the songs were self-written, which was pretty rare in those days for a local band, and we got ourselves some gigs in clubs around the area and recorded and pressed up 50 copies of an album which we sold to friends. But it was obvious nothing was going to happen in Devon. Towards the end of the year I got thrown out of my own band, who'd decided they wanted to do cover versions. By then I'd met Gaye, who said she wanted to learn to play bass. We started to make plans to move to London and form a band there."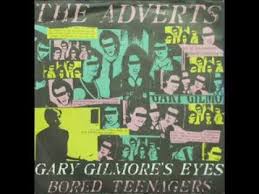 After relocating to London they recruited guitarist Pickup and drummer Driver, and became The Adverts. They were one of the pioneering bands who played at the Roxy Club, London's first live punk venue, during its first 100 days. Here's Bored Teenagers:
Best known, of course, is The Adverts' single, Gary Gilmore's Eyes. This was the first of their two UK Top 40 hit singles, and was based on Gary Gilmore, an American murderer. Top of the Pops was usually dominated by love songs so the topic was controversial.
Here's the background to the song. Gary Mark Gilmore (pictured above) was born at Waco, Texas, in 1940 and graduated from being a delinquent teenager to small time career criminal. In 1964 he was sentenced to fifteen years in prison but was released in 1972 only to be quickly rearrested for armed robbery. He was paroled in April 1976 and moved to Utah, where the following July he committed two armed robberies and two senseless murders – killing first a gas station employee and then a motel manager. After a rapid arrest he was sentenced to death and executed by firing squad on January 17, 1977. The specific inspiration for The Adverts' song came from Gilmore's request that his eyes be donated to medical science and be used for transplants after his death. Two people received his corneas within hours of his execution along with his other organs.
Sounds magazine described Gary Gilmore's Eyes as "the sickest and cleverest record to come out of the new wave". It was later included in Mojo magazine's list of the best punk rock singles of all time. Here's The Adverts Gary Gilmore's Eyes on Top of the Pops from August 1977: