Here are just a few of the lesser-known women who lived or worked in Torquay. They helped make our town and made their mark on the world.
Helen Taylor
Helen Taylor (1831–1907) was the stepdaughter of John Stuart Mill – the political economist who has been called, "the most influential English-speaking philosopher of the nineteenth century" (pictured here together). She was a pioneering feminist who played an important role in organising the Ladies' Petition on suffrage which Mill presented to the House of Commons in June 1866.
She campaigned for free and universal education, for the abolition of corporal punishment, for the community's right to the use of school facilities outside of school hours, and for the provision of free meals and clothing for poor children. Helen was also instrumental in the appointment of working-class parents as school managers.
Helen became a champion of Irish Home Rule and of land reform. She was on the first executive committee of the Democratic Federation, founded in 1881, and was a supporter of labour representation in Parliament. Along with other women activists, she condemned fox-hunting, and in 1870 published an attack on the blood sport.
Evangeline Booth
In 1888 the 23 year old Evangeline Cory Booth (1865-1950) came to Torquay to organise the Salvation Army's campaign for the right to organise and march. The daughter of William Booth, Evangeline pronounced, "The majority in the world are sinners, and are quite against goodness, and I'm afraid it's the same in Torquay." She quickly launched the Army's legal defence and organised street activism from their  'Fort' in Temperance Street. This was called 'The Torquay War'. After six months of conflict, sometimes violent, and over a hundred arrests, the Salvation Army won the argument and the law was changed.
Rosa Campbell Praed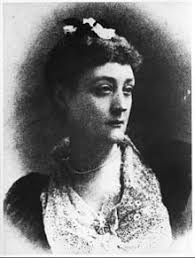 Rosa Campbell Praed (1851-1935) was the first Australian novelist to achieve a significant international reputation. Her writing was described as "extraordinary" as she included Aboriginal people as characters while "eloquently pleading their case for justice and dignity". When the Praeds relocated to London they socialised with celebrities such as Oscar Wilde, Conan Doyle, Rudyard Kipling and Bram Stoker. During her long career Rosa wrote over 50 books, had a play performed in the West End, and was accepted as one of the leading writers of her day. In 1878 the Theosophical Society founded its London branch and Rosa began to attend and host Theosophical Society meetings. She came to know and correspond with the theosophists H.S. Olcott, Madame Blavatsky and Annie Besant. Occult themes then began to emerge in her work and she carried on her involvement with spiritualism during her years as a Torquay resident.
Georgina Baroness Mount-Temple
Georgina Baroness Mount-Temple (1822-1901) was the step-daughter-in-law of Lord Palmerston and a friend of John Ruskin and Dante Gabriele Rossetti. Georgina is pictured on the left.
Georgina was a great humanitarian, her interests included the Band of Mercy founded by Lord Mount-Temple, the Royal Society for the Prevention of Cruelty to Animals, the Torquay Anti-Vivisection Society and the Temperance Movement. She lived at Babbacombe Cliff, later re-named the Babbacombe Cliff Hotel and now flats. When she died in 1901 her obituaries recorded a woman who campaigned with, "passionate indignation against cruelty and injustice…" However, the Manchester Guardian felt it necessary to comment on her commitment to, "lost causes and impossible beliefs". Georgina has a statue in Babbacombe of her feeding the birds she so loved.
Elsie Howey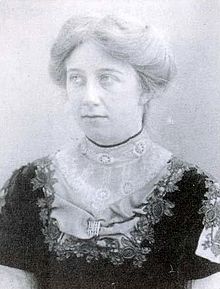 Between 1909 and 1914 Torquay's Suffragette Organiser Elsie Howey (1884-1963) was "in the vanguard' of militancy". She was imprisoned at least six times. Despite her many arrests, Elsie remained completely dedicated to the cause. She endured several hunger strikes and faced forced feeding. Injuries inflicted during the force-feeding broke most of her teeth – "her beautiful voice was quite ruined" – and she never fully recovered from her ordeal.
Alberta Vickridge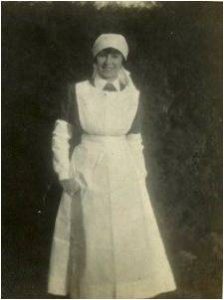 While living in Torquay, poet Alberta Vickridge (1890-1963), decided to contribute to the war effort and volunteered to join the Voluntary Aid Detachment in late 1917. The experience of working with wounded men in Torquay Town Hall Hospital led her to write two of her most anthologised poems: 'In a VAD Pantry' and 'Out of Conflict'.
Violet Tweedale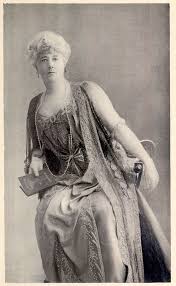 Violet Tweedale (1862-1936) was a Scottish author and spiritualist. In 1917 Violet investigated the Warberries' 'Castel-a-Mare', Britain's most haunted house. During the investigation one of Violet's associates was possessed and had to be exorcised. She wrote over 30 books on spiritual subjects, such as 'The Cosmic Christ' (1930), and her own personal psychic experiences, including the Torquay investigation, were documented in 'Ghosts I have Seen' (1920). She was a gifted amateur artist, embroiderer, accomplished pianist and golfer, and a skilled orator who spoke up for workers' rights. She collaborated with fellow spiritualist Arthur Conan Doyle, who described how Violet saw pixies in the gardens of Lupton House.
Odette Keun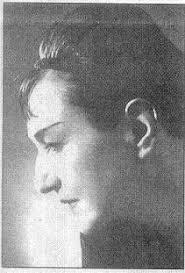 Odette Keun (1888-1978) was a Dutch adventurer, journalist and writer, who travelled extensively in the Caucasus and the early Soviet Union. She explored solutions to the world's problems as she travelled. Odette was one of the first to comprehend the dangers of totalitarianism. She accused fellow liberals in the 1930s of being "spineless" in failing to meet the growing ideological challenges of Fascism and Communism. Odette's alternative to the extremes of capitalism and totalitarianism emphasised private property and individual initiative and joined these freedoms with "resourceful" state intervention. She warned against excessive interference by either business or government and demanded that freedom of speech and conscience be guaranteed.
Ruby Murray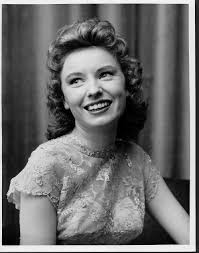 Ruby Murray (1935-1996) was one of the most successful stars in the history of British popular music and the biggest-selling female artist of the 1950s. The young Irish singer set a chart record in 1955 for having five recordings in the top 20 simultaneously – a feat equalled only by Elvis and Madonna. She had her own television show, starred at the London Palladium, appeared in a Royal Command Performance, and toured the USA, Malta and North Africa. Frank Sinatra told her, "You're a hell of a great singer and I am your greatest fan."