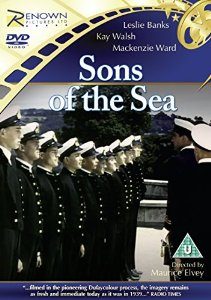 Continuing our WASD series of movies filmed in South Devon, here's 'Sons of the Sea'. This 1939 Dartmouth-set British colour drama was directed by Maurice Elvey and starred Leslie Banks, Kay Walsh, Mackenzie Ward and Cecil Parker.
The film is a whodunit murder mystery set in Dartmouth Naval College and follows the slaying of the base's captain. His successor, Captain Hyde, (Leslie Banks, star of 'The Man Who Knew Too Much' and 'The Most Dangerous Game'), believes that he was the intended target of the assassination. He soon begins to realise that both British and foreign intelligence agents are at work. He then enlists the help of his son, a reluctant sea cadet, to find the culprits.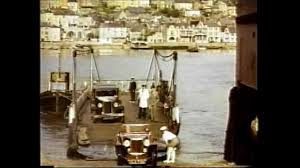 Filmed on location in and around the Naval College, large numbers of naval cadets were used as extras. It was made in 1939 just before the outbreak of war, but studiously avoids mentioning our Teutonic cousins by name. Yet, there is an assumption that the murderer must be "a foreigner" and there are several references to what could take place "during the war". The villain's identity is finally revealed to be a 'Kapitan Mueller' which sort of gives the game away.
There's a few things of interest about 'Sons of the Sea'. The first is that we see Dartmouth as it was in 1939, those pre-war cadets parading at the Royal Naval College, Churston railway station, a GWR locomotive and classic 1930s cars.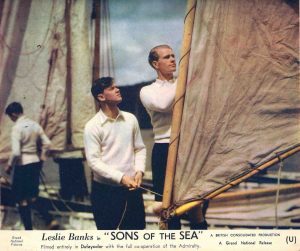 The most significant thing is, however, that 'Sons of the Sea' was filmed in colour. It was the first British feature film ever shot using a single-strip colour process – a system known as 'Dufaycolor'. Four years previously the process had been used for two sequences in 'Radio Parade' of 1935, but this was its first use for an entire film.
Due to its historical significance, 'Sons of the Sea' was restored and shown on the BBC in 2005. Here's a short clip giving a nice view of Dartmouth and Churston back in 1939: