Over 1,400 ladies who took part in Rowcroft's swashbuckling pirate-themed Sleep Walk have pledged to raise an amazing £120,000 for Rowcroft Hospice.
The hugely popular annual night walk, which took place last night, saw ladies from across South Devon complete their choice of five or ten mile routes along Paignton and Torquay seafronts, with the last crossing the finish line at 2am.
Alison Grant, 44 and daughter Amy Murphy, 17 from Paignton were the first walkers back to Clennon Valley. Alison said: "It's an absolute pleasure to walk for such a wonderful cause. The atmosphere was absolutely fantastic and the volunteers were brilliant."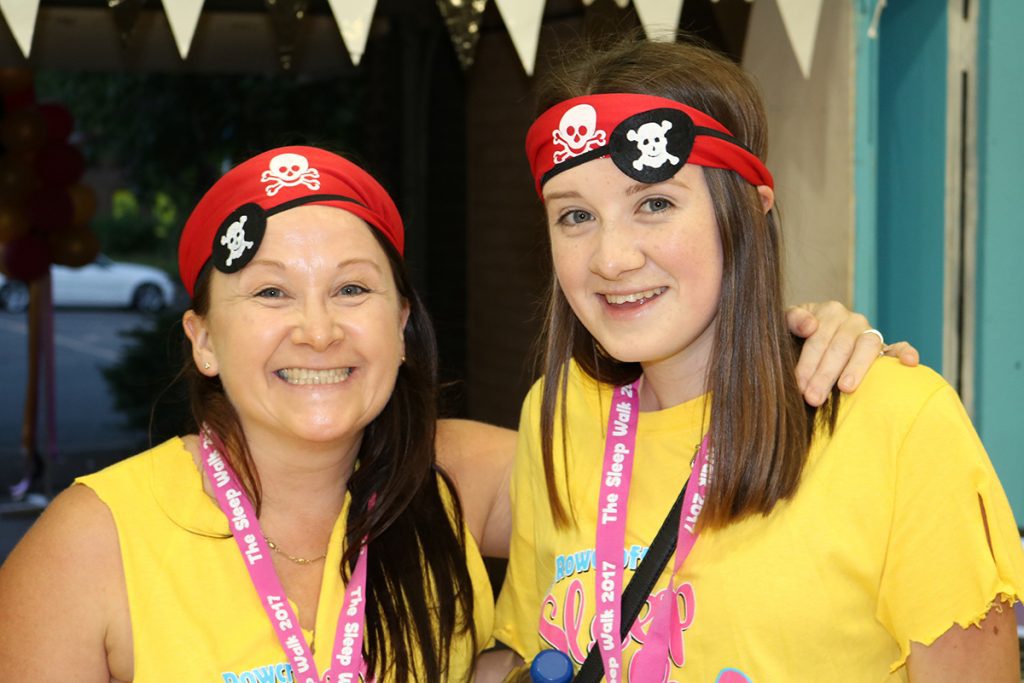 Jack Plumbley, 26 from Newton Abbot has volunteered at the event for the last 5 years and added: "To be involved in an event which has such tremendous community spirit and support is an honour. The night was full of fun and I'm already looking forward to being part of next year's Sleep Walk."
Rowcroft's Events Manager, Daniel Robson, gave a special message of thanks to all those who gave up their time to support and take part in the event: "We are so grateful to all the amazing ladies who battled achey legs and tired feet to complete our five and ten mile routes last night, and to all the brilliant people who encouraged them with sponsorship, cheers and messages of support.
"Every pound raised really does make a huge difference to local people; helping those facing the hardest days imaginable to spend precious time with family and friends.
Daniel added: "Huge and very special thanks also go to all the wonderful people who generously donated their time to help with the running of last night's amazing event – our fantastic volunteers!
"Without them we simply wouldn't be able to run the event; they save us an incredible amount in costs and also make the event what it is – a happy, fun-filled night that brings the whole community together in support of an incredibly important local cause."

Organisers are thrilled with the amount raised, particularly as the hospice focuses its efforts on securing the future of its services after a funding shortfall in 2016.
Head of Fundraising, Rachael Bryett, said: "In order to ensure we are able to provide end of life care to the people of South Devon for many years to come, we must continue to increase our levels of fundraised income, and events such as The Rowcroft Sleep Walk play a very significant role in this.
"Once our future has been secured, we hope to begin rebuilding a hospice service that meets all of the local community's wishes.
"In the meantime it has been fantastic to see so much support from our local community and we thank everyone who took part last night and who continues to fundraise for us for their amazing efforts!"
For more information on Rowcroft's other exciting fundraising events coming up this summer, including the Bubble Rush on Saturday 9 September and Ride for Rowcroft on Sunday 8 October, visit www.rowcrofthospice.org.uk.