Some special visitors came to Exmouth RNLI Lifeboat Station recently.
Wednesday 21st August 2023 saw the Goring-Crook family on holiday from Hampshire arrive at Exmouth Lifeboat Station. They are all members of the RNLI and were treated to a special tour of the lifeboat station as well as seeing the all weather Shannon class lifeboat 13-03 R & J Welburn and inshore D-Class lifeboat D-805 George Bearman II in action on exercise on the day.
The children, Amelia Evans aged 15, Annabelle 13, Jamie 11 and Oscar 9 were so inspired by their visit they drew two wonderful pictures, one of the Exmouth RNLI Shannon lifeboat and one depicting the RNLI official flag, both of which they presented to the lifeboat station.
Then on Saturday 26th August 2023, twelve classic motorcycles and their proud riders from the Exeter British Motorcycle Club converged on Exmouth Lifeboat Station to display a selection of their fine classic motorcycles.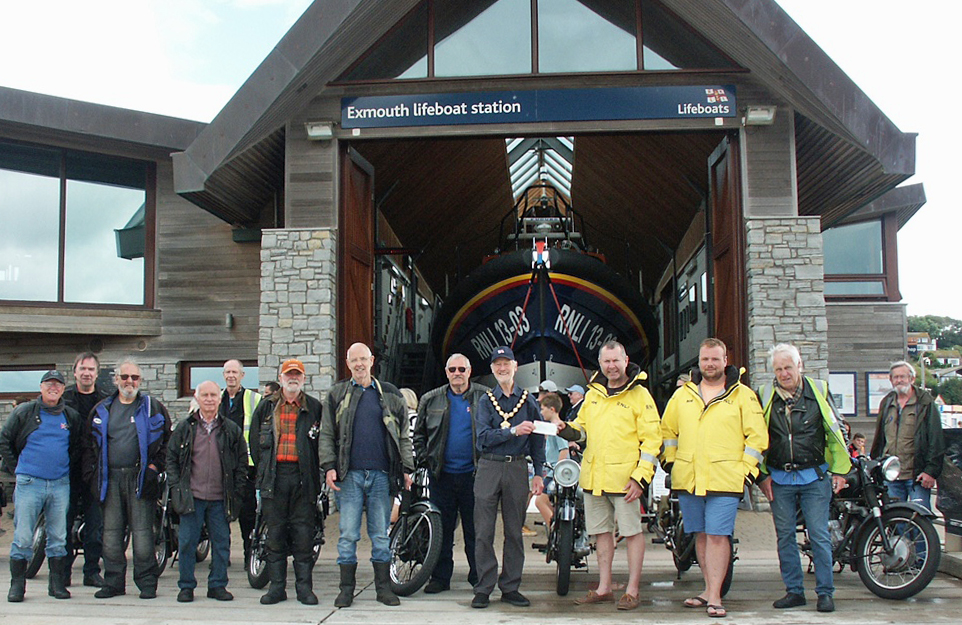 The 63 member Club bought along two 2 Triumph motorcycles, 2 BSA, 2 AJS, a Panther, a Vincent, a Velocette, a Norton and a Rudge machine. The oldest on display were one of the Triumphs and the Rudge Ulster both dating back to 1938, with the second Triumph bike being the most recent classic from 1982.
Mayor of Exmouth, Olly Davey, presented a cheque for £100 to Exmouth RNLI on behalf of the motorcycle club that had been raised through various club events during the year.
Commenting on both visits, Chair of Exmouth RNLI Fundraising Team, Des White, said "I thoroughly enjoyed meeting the Goring-Crook family – I'm so pleased they enjoyed their special visit to our station and to see such wonderful enthusiasm for the lifeboats from the youngsters that is evident from the pictures they created for us. On behalf of all the RNLI volunteers here I must give a special thankyou to the Exeter British Motorcycle Club for their generous donation and to our Mayor, Olly Davey, for presenting us with the cheque. The funds will be used for essential training and equipment for the volunteer Exmouth Lifeboat crews to enable them to continue their work saving all lives at sea."