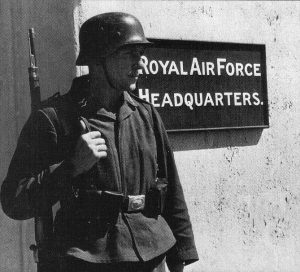 Did Hitler plan to live in Torquay's Grand Hotel or the Osbourne if the Nazis had invaded Britain?
That's the urban legend that seems to have been around for decades. So is there any truth behind the story?
We're into alternative history here, a fascinating exercise in imagination based on what might have been. The most in depth exploration of this comes from Len Deignton who in 1978 wrote a novel called SS-GB which was later turned into a TV series. It's set in a Britain conquered and occupied by Germany during the Second World War – the novel's title refers to the Nazi SS that controls all facets of the population's lives.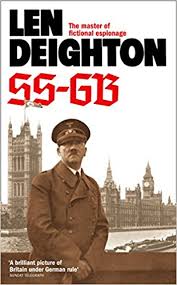 First of all, the real history. The Nazis believed that, following swift victory in the Battle of France, the war in the west could be easily won. German paratroopers would land near Brighton and Dover and would then secure England up as far north as Northampton, expecting that the rest of the United Kingdom would quickly surrender. They believed that the British people would be glad that the war had ended and, with Germany in charge, they could then concentrate on defeating Russia and the Bolsheviks. However, the main difficulties for Germany were the small size of its navy and that control of the skies proved impossible. On September 17, 1940, Hitler ordered the cancellation of the invasion plans.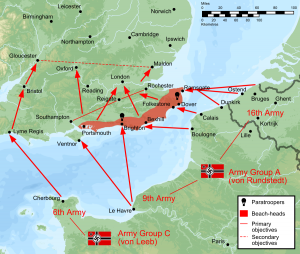 Even if the Germans had managed to make it across the Channel, it was doubtful that they would be able to conquer Britain. In a 1974 war game conducted at Royal Military Academy Sandhurst, it was assumed that the Germans were able to establish a beachhead in south-east England. However, German ground forces were delayed at the 'Stop Lines', a layered series of defensive positions. After a few days, the Royal Navy was able to reach the Channel from Scapa Flow, cutting off supplies and blocking further reinforcements. Isolated, and facing regular British troops with armour and artillery, the invasion force was forced to surrender.
Nevertheless, Hitler's invasion strategy, codenamed Operation Sea Lion, was supported by a very clear idea of what Britain would look like under German control. A lot of research had been carried out in the 1930s and an invasion guide gave the overly optimistic fascists the crucial information they would need – including guidance on the road system, regional geography, money, weights and measures and even translation of Welsh words.
The administration of occupied Britain was also considered with Nazi headquarters to be established in important cities including London, Newcastle, Liverpool and Glasgow. Britain as we know it would change profoundly. The monarchy would survive, but with a key difference: the person on the throne would be Edward VIII, the man who had abdicated in 1936. The former king had paid a friendly visit to Hitler in 1937, and was widely suspected of having pro-German sympathies. On the other hand, our constitution would be greatly altered with the granting of independence to various regions – Scotland would be detached from the United Kingdom, there would be a United Ireland, and an autonomous status for Western England.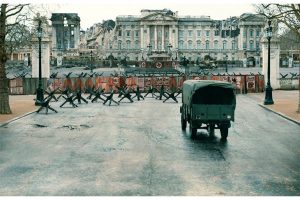 A ruined Buckingham Palace in a Nazi occupied London – from 'SS-GB', the 2017 BBC drama 
But then there may have not been much of a Bay population to rule over. Hitler had called the English lower classes "racially inferior", while Himmler had expressed the intention for special forces of the SS to kill about 80% of the population of England after the German victory.
One Nazi document stipulated that "the able-bodied male population between the ages of 17 and 45 will, unless the local situation calls for an exceptional ruling, be interned and dispatched to the Continent". This represented about 25% of male citizens to be used as industrial slave labour. The remaining population was to be terrorised – civilian hostages would be taken, and the death penalty immediately imposed for even the most trivial acts of resistance. Britain was then to be plundered for anything of financial, military, industrial or cultural value – which would have destroyed our economy.
There was a plan to quickly dispatch SS death squads, known as Einsatzgruppen, throughout Britain to arrest and murder anyone deemed a threat to the new order. The Special Search List GB, known as the Black Book, written in 1940, contained the names of almost 3,000 prominent people to be arrested – including politicians, authors, poets, journalists, actors, scientists, musicians, heads of industry and religious leaders. Along with their familiar local targets were to be Torquay's Boy Scouts: "The Boy Scout movement is a disguised instrument of power for British cultural propaganda, and an excellent source of information for the British Intelligence Service".
One of the first targets of the Einsatzgruppen would have been Britain's Jewish population, who numbered over 300,000. The Jewish community of Torbay dates from World War II, when synagogues were opened in both Torquay and Paignton, primarily by evacuees from London. And local Jews were well aware of the nature of the Nazis. In 1936 M Collins for the British Union of Fascists and National Socialists wrote a letter to the Torquay Times making clear the vicious anti-Semitism of the movement: "All Jews, whether foreign-born or English-born, will be regarded as foreigners under Fascism, and will be treated as such. Those Jews that do not put British interests first will be deported as undesirable aliens."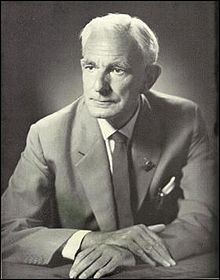 A new local elite would dominate Torquay. Those local administrators still remaining would have a legal and moral requirement to do their best for the population. And it may not be that all Torquay residents would have objected to the presence of the invaders. As elsewhere in Europe, compromises and accommodations would be made. The Germans expected to rely heavily on the Nazi sympathisers who had been active in Britain since the early 1930s – and Oswald Mosley's British Union of Fascists. One local notable activist in the BUF was the editor of local newspapers, the Torquay Times and the Torquay Directory. This was AK Chesterton who came to Torquay in 1929 to work in the local media and then became active in the Torquay Citizens Defence League. Violently anti-Semitic, he joined the British Union of Fascists in 1933, and in 1937 published a sympathetic biography of Oswald Mosley: 'Portrait of a Leader'. However, Chesterton (pictured above) came to see Mosley as too liberal and he left the BUF to found the National Socialist League in 1938. Another BUF member who defected along with Chesterton was William Joyce – Lord Haw-Haw – who was hanged for treason in 1946. After the war Chesterton remained active in extreme right-wing organisations, and eventually formed the National Front. Most ordinary pre-war British fascists, however, were generally happy to join-up to fight for Britain once they had been vetted.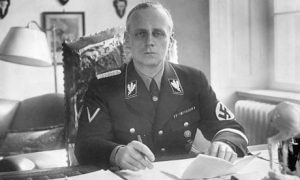 One contender for the role of our new ruler was a visitor to Torquay in April of 1937. This was the German Ambassador, and Hitler's foreign minister, Joachim von Ribbentrop (pictured above). Fascist fantasies suggested von Ribbentrop for the office of Imperial Commissioner for Great Britain with near-dictatorial powers. Other evidence has suggested that von Ribbentrop had private plans for a retirement in Cornwall and had set his heart on a home on St Michael's Mount. Before the war the Nazi had stayed with Colonel Edward Bolitho, the Lord Lieutenant of Cornwall – "He told Bolitho he wanted to live in St Ives and that Hitler had agreed to give him Cornwall." Holiday postcards purchased by Ribbentrop were later used to illustrate a secret German 1942 guide to the English coastline. Such an interest led to local stories that the Germans had been instructed to avoid bombing particular sections of the Cornish coast to preserve the future provincial dictator's properties.
This leads us into the stories that, if he had been successful, Hitler would have come to live in Torquay's Grand Hotel or the Osbourne. Is this true and where did the story come from?
It's an interesting idea, but is shared by many other places. Certainly plans were in place to occupy British iconic buildings. Hitler himself wanted Blenheim Palace – it may be that he earmarked this stately home as a final insult to Churchill, who had been born there. Other lavish homes were to be awarded to various top Nazis, such as in the New Forest, while Eton was to serve as an exclusive public school for the invaders' children. Oddly, the Nazis were also keen on creating a major base in the quiet Shropshire town of Bridgnorth – perhaps because it was geographically in the heart of the country with good rail and communication links.
Yet across Britain other iconic buildings have been suggested as being on Hitler's list for local 'Reichstags'. These were assumed to be attractive to the Nazis due to their location and their architecture – Hitler was a fan of neo-classicism, whilst Himmler favoured Gothic Medievalism. Along with The Grand and the Osbourne, they include: Bloomsbury's Senate House; Du Cane Court in Balham; Manchester's Midland Hotel; several buildings in Oxford; and Rochdale Town Hall. What they all seem to have in common is that they fortunately survived Luftwaffe attacks. As German bombing had 70 per cent accuracy, local mythology then developed the idea that these fortunate buildings were deliberately spared for future Nazi use.
And we have the intriguing Knowstone Manor, near Tiverton, which was rumoured to have been built with money from the Third Reich to host the Nazi leader and his top ten officers if Germany won the war. The house was constructed in the 1930s by a mysterious German bachelor who was surrounded by claims of Nazi cooperation. From the air, a photograph shows buildings resembling the swastika and the lights were supposedly used as a signal for enemy planes. Knowstone Manor burnt down in the 1960s.
But why specifically Torquay? Outlandish as it seems there may be an explanation. Hitler did apparently have his eye on a seaside resort, but not in Devon. It has been proposed that Blackpool was destined to be one of the most popular places in Nazi England. Documents recovered from a German military base have supposedly revealed that Hitler had a special interest for the town, identifying the resort as a place for the Wehrmacht 's post-conflict Rest and Recreation. And so, despite being a legitimate military target where British troops were stationed and where Wellington bombers were manufactured, Blackpool was deliberately spared by the Luftwaffe – the Führer didn't want its tower and three piers put at risk!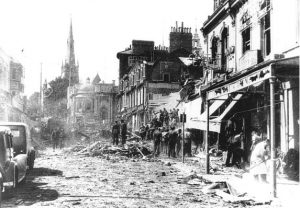 It may be that – as with other Torquay myths – we imported our special status from this similar resort. But, of course, unlike Blackpool, Torquay wasn't spared the attentions of the Luftwaffe. The photos above are of bomb damage to the Palace Hotel and Lower Union Street while the photo below comes from a German wartime magazine – the caption reads: "Another attack, this time on Torquay 30 May 1943."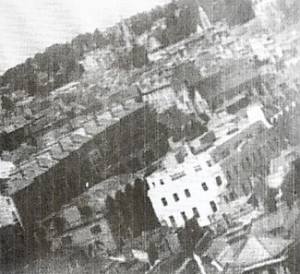 So it doesn't look like Torquay was ever going to be a centre for Nazi occupation. However, as in the rest of Europe, the invaders, if successful, may well have utilised seaside resorts, so our town could have become a focus for recuperating German troops. Thankfully, we'll never know due to the sacrifices of those many thousands who successfully repulsed the German war machine back in 1940.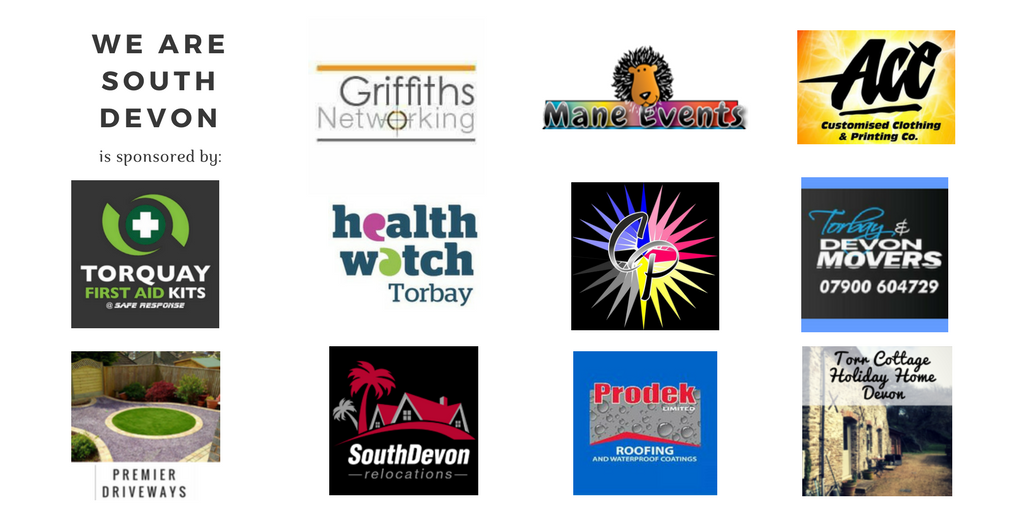 You can join us on our social media pages, follow us on Facebook or Twitter and keep up to date with whats going on in South Devon.
Got a news story, blog or press release that you'd like to share or want to advertise with us? Contact us