A team of 30 Torquay Museum cycle-mad staff and volunteers, including local MP Kevin Foster, rode 1,300km during a 12 hour period on Saturday 16th September to raise much-needed funds for the Museum. The fundraising target is £5,000, which Thomson Reuters Corporation has kindly agreed to match fund.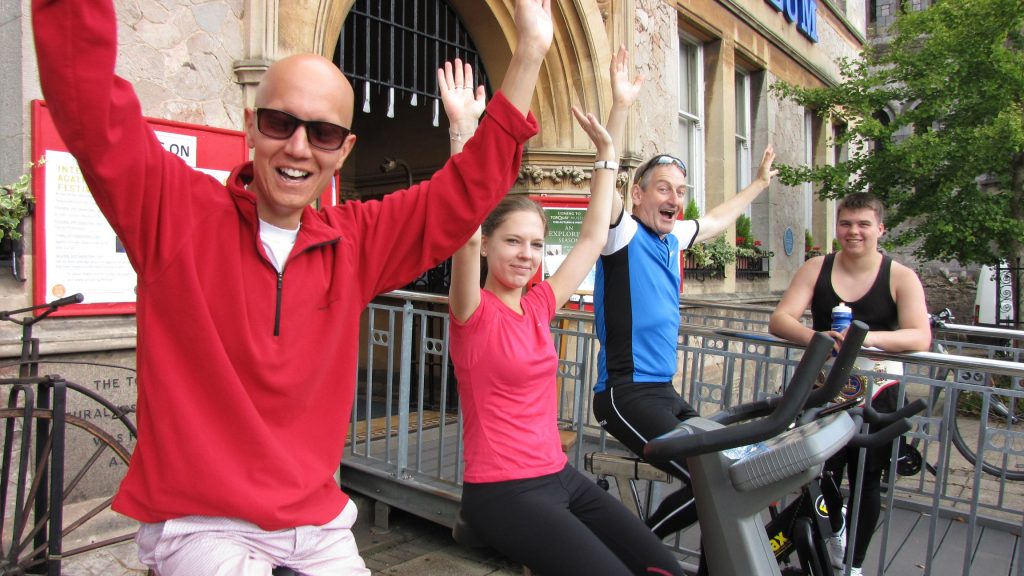 "The cycling was done outside Torquay Museum on three static bikes, kindly loaned to us by Castle Gym & Fitness Centre." said Volunteer Coordinator Philip King. "A team of 30 Museum staff and volunteers took it in turns to cycle 1,300km – smashing our original target of £1,000km. Kevin Foster MP was in the saddle for half an hour, riding a very respectable 10km. Torquay Utd mascot Gilbert the Gull bravely cycled an hour and a half in full costume, and keen cyclist Torbay Councillor Robert Excell gallantly rode for 45 minutes."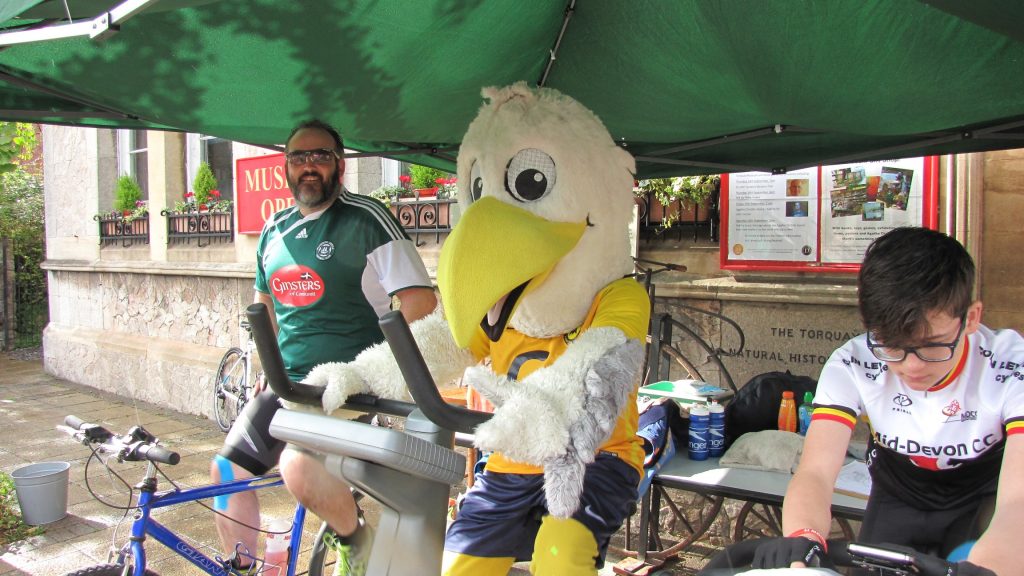 "We still need lots of lovely sponsors in order to reach our target of £5,000 – please go to Torquay Museum's website to donate,http://www.torquaymuseum.org/events/details/330/pedal-for-pengelly-cycle-challenge"
Torquay Museum is an independent charity with some world-famous artefacts in its collections, is the home of North West Europe's oldest human fossil, Devon's only human mummy, and Britain's only Agatha Christie Gallery.
"Despite hosting a very successful and popular summer Star Wars exhibition, the Museum is in desperate need of funds to conserve and maintain its stunning and fascinating collections for the people of Torbay and beyond," continued Philip King. "Remember, for every £1 raised in sponsorship, Thomson Reuters Corporation has kindly agreed to donate the same amount to the Museum, so every pound really will make a difference."