Stagecoach has named the people's choice winner of its Community Heroes competition.
After launching the competition to mark its 40th anniversary, Stagecoach received hundreds of nominations to recognise unsung community heroes.
Martin Macdougall, from Merkinch in Inverness, was voted the overall national community hero for the work he has done in supporting local children in Inverness and the surrounding areas by providing them with free books and crafts during lockdown. He used money from his holiday funds to buy the gifts for children. Martin also works daily to keep his town of Inverness clean for the locals and tourists.
Martin said: "I really enjoyed making the children of Inverness and surrounding areas happy by gifting them books and crafts at a time that the world was hard for not only us grown-ups but the children as well.
"I work hard daily to keep our town of Inverness clean for the locals and tourists and it was with my holiday funds I was able to gift so many children. I love to see children happy with a big smile so doing this made sense to me. I want to thank each and every person who voted for me, it truly has made me so happy and emotional right now."
The country's biggest bus and coach operator was inundated with nominations from every area it operates services – from Exeter in the South West to Aberdeen in the North of Scotland, and asked for help from the public in choosing the overall national winner. Over 2500 votes were cast, and Martin was chosen out of 23 other finalists to become the National Stagecoach Community Hero.
Carla Stockton-Jones, UK Managing Director for Stagecoach, said: "We were overwhelmed with the amount of fantastic entries we had for our community heroes competition, and we had some great examples of people pulling together to support each other during the pandemic.
"Our huge congratulations go to Martin, who was voted the well-deserved people's choice winner. During Covid-19, Martin used his savings to buy and deliver colouring books and craft materials for children in the Inverness area.
"There is clearly a huge amount of incredible work taking place in the communities we serve and we'd like to congratulate all the nominees and pay tribute to our local community heroes and all of our employees for the valuable role they have played in making the Stagecoach the company it is today".
Other Stagecoach Community Heroes were named as:
Michael Sutton from Lancashire. A retired IT and biology teacher, he keeps himself active by involving himself in many worthwhile community projects. Michael serves on the Board of Directors of the East Lancashire Social Inclusion Club (ELSI) where those with mental and/or physical disabilities can meet up in a safe environment to truly enjoy themselves. He also volunteers as a weekly art teacher, participates in frequent community clean up schemes, as well as marshalling local and county bike races. Michael also fosters and cares for the forgotten, injured, and unwanted animals in his area before finding them "furever" homes. But foremost, Michael is a devoted son and brother who also sees to the welfare of his elderly mother and autistic brother on a daily basis.
Erica Parkinson from Wigan. Erica is 7 years old and loves unicorns, taking part in natural beauty pageants, anything pink and sparkly as well as playing rugby league. However, Erica's favourite thing to do is raise money for charity and help the community. Erica helps the community by doing litter picks and cleaning up local beauty spots, organising fun runs to raise money for local charities and doing little things such as giving out sweets to local children during lockdown and donating food items to local food banks/NHS Staff.
Michelle (Shelly) Stammers from Exmouth. Shelly has created an amazing community exercise movement called "Tri-Hards". What started as a way to encourage women to exercise and create friendships, the Tri-Hards now welcome everyone who wants to take part. They're a close-knit community in Exmouth and her movement is noticeably having an impact. They're visible throughout the town in their brightly coloured training tops, all shapes and sizes, young and old and totally non-judgemental. Shelly's message is always the same, "I'm on a mission to get as many people as possible building friendships through outdoor exercise!"
Hayley Barbara, Clare Hayley Downs, Clare Lawrence and Barbara Ackley from Sheffield, have been making handmade face masks for charity. At first they expected to raise around £100, but have now sold over 2,000 masks, raising over £5,000 for NHS Donations. Operating under their slogan 'Teamwork is Dreamwork,' they set up a stall outside the Lodge in Bute Street, close to where they all live and have been there every day selling the cloth masks.
Priscila Currie from London is a Fast Response Paramedic with the London Ambulance Service. During the pandemic's worst times, she was on the front line and doing her best to save lives. She helped her elderly neighbours by doing their shopping and keeping them safe. Priscila also teaches First Aid through her company "Yay First Aid" where she not only teaches amazing life saving techniques to members of the public but also helps charities. She is not only an NHS hero but she is a kind and generous person who is always available to help and educate others on health tips.
Rose Duncan from Cupar, Fife. Rose came out of retirement in March 2019 and is employed as the Centre Manager of the Collydean Community Centre. Since taking over, Rose greatly increased the capacity of the Centre and developed many new activities. With the onset of the Coronavirus pandemic, Rose and her staff were one of the first organisations to adapt and continue with operations to keep providing much needed services to the people of Collydean and North Glenrothes. These services included Emergency Food Provision, Community Larder provision, Befriending Services, Digital Connectivity, Andy's Man Club, Outdoor Activities such as Bike Hire, Gardening and Keep Fit Activities.
Jo Campbell from Hastings. Jo is the Head Teacher at Ore Village Primary Academy. Jo is committed to her school and the community and has been since she arrived last year showing a deeper understanding and a true, genuine approach to all involved. The work she has undertaken to bring children, parents and staff together during these difficult times is outstanding. Her heartfelt passion towards the teaching and learning of the pupils alongside the true desire for everyone to be their best is just wonderful to observe.
Liz Leaman from Northampton has used her time since being furloughed to help key workers in her community. Along with other women of her parish, she has made face masks, headbands and washbags to help protect key workers. She has also sold face masks to raise money for The Foodbank Weston Favell and the Royal British Legion, the latter will use the donation to buy equipment for wounded service personnel for their rehabilitation. There have been coffee mornings (socially distanced), sales and more face masks created for Remembrance.
Bob Norbury from Marlborough is the choir master of the Spotty Dog choir and has been the driving force behind the choir, raising a great deal of funds for Help for Heroes and the British Legion Poppy Appeal. That doesn't begin to tell even part of his story. Over the years he has raised more than £93,000 by various means, to say nothing of the great many acts of kindness and generosity by the way he lives his life .Tragically, approximately two years ago an accident led him to lose his leg and suffer appalling injuries to his other leg. Most people would have caved in with the intense pain, stress and shock. Not Bob, he's back again trying to raise money for the Wiltshire Air Ambulance, instrumental in saving his life.
Trevor May from Gloucestershire helps to run the Aston project, organised by the local police, helping local children in the community. The children work towards a reward system – the more things they do for the local community, the more points they get. Everyone knows points mean prizes and the children can save their points to get a day out. It's about giving local children something positive and Trevor is a vital part of the project.
Elizabeth McDonald from Burnhill is a mum of two and is very passionate about her community and the people from Burnhill. She says her dad was a youth worker when she was younger and was a great inspiration to her as she saw the amazing work he did and the difference he made. He inspired Elizabeth to give her time to help others.
Amy McEwan from Ayr has volunteered with a local charity called Create a Smile Scotland all through lockdown. Amy has dedicated so much time to delivering emergency food hampers all over East Ayrshire, she also helped to deliver lunches to the elderly five days a week for the last 28 weeks. She delivers home baking to the older people in her local communities every Friday and she calls to check in on the most vulnerable older people in the area. Not only has Amy given so much time to the charity but she has also been doing her PhD alongside all of this.
Lynn Hunter from Witney is a volunteer for the Witney Land Army delivering and doing shopping for residents. She also delivers to the resident's door and has a chat, which is worth more to many than the deliveries. The WLA may now have ceased but Lynn has continued on to make sure that everyone is looked after throughout this pandemic.
Fergus Mackenzie (5) and Ruaridh Gregory (3) from Tain were nominated by their great-aunt. The boys went around their elderly neighbours houses and left them jigsaws on their doorsteps so they had something to keep them occupied and so they knew they were not alone in this pandemic. They wanted to cheer their elderly neighbour's up and lift their spirits in an uncertain time.
Joe Skomorowskyj from Lincoln was nominated by many people at Stagecoach East Midlands. Joe has assisted them to help customers in Lincoln Bus station for many years now. He does this of his own accord to help out the bus users of Lincoln. He is always there to help out where he can and is one of the nicest people you could meet. He goes above and beyond his own duties as a council employee to help and assist passengers and staff.
Amanda Foster from Preston was nominated because despite having four children, running a small hold, having four dogs, a cat, six quails, numerous rabbits and guinea pigs, two ferrets and a part time job, Amanda still somehow finds time for others in the village. She's arranged many activities and groups from a village local share and swap group for surplus fruit and veg for the village, a local pebble art group for the primary school children (and adults!), and more recently has set up a COVID-19 safe Christmas stall holder fete for the whole village which means all the small businesses, traders, craft makers and anyone else will hold a stall on their driveway in December with music and lights.
Jayne Sargeant from Nuneaton was nominated because of everything she has done for the little village she lives in – putting on and organizing events and helping the community with care package for the vulnerable and elderly – and for being an all-round lovely person.
Richard Smart has lived in the village of Thruxton, Hampshire for 20 years and has raised thousands for various charities throughout that time. He stepped up when the pandemic started and created the Thruxton Virus Volunteers Group to help the most vulnerable in his community. Along with his fellow volunteers, Richard helped over 50 local residents by arranging food and prescription deliveries, and transport to medical appointments. He hosted morale boosting fun events, fundraisers for local charities and even helped raise funds for local families who had been the victims of theft and a house fire. Over £12,000 has been raised in the past seven months and Richard has been at the heart of it which is why he was put forward to be named Stagecoach Community Hero.
Danielle Aicardi from Cwmbran set up Northville Community Group six years ago with the aim of creating a safer, cleaner and more cohesive place to live. The group runs projects to bring the community together in learning, celebration and unfortunately sometimes hardship. They run a food bank and are currently planning for Xmas to ensure no child goes hungry in the community.
The overall winner, Martin, will receive £500 in shopping vouchers and each of the finalists will receive £75.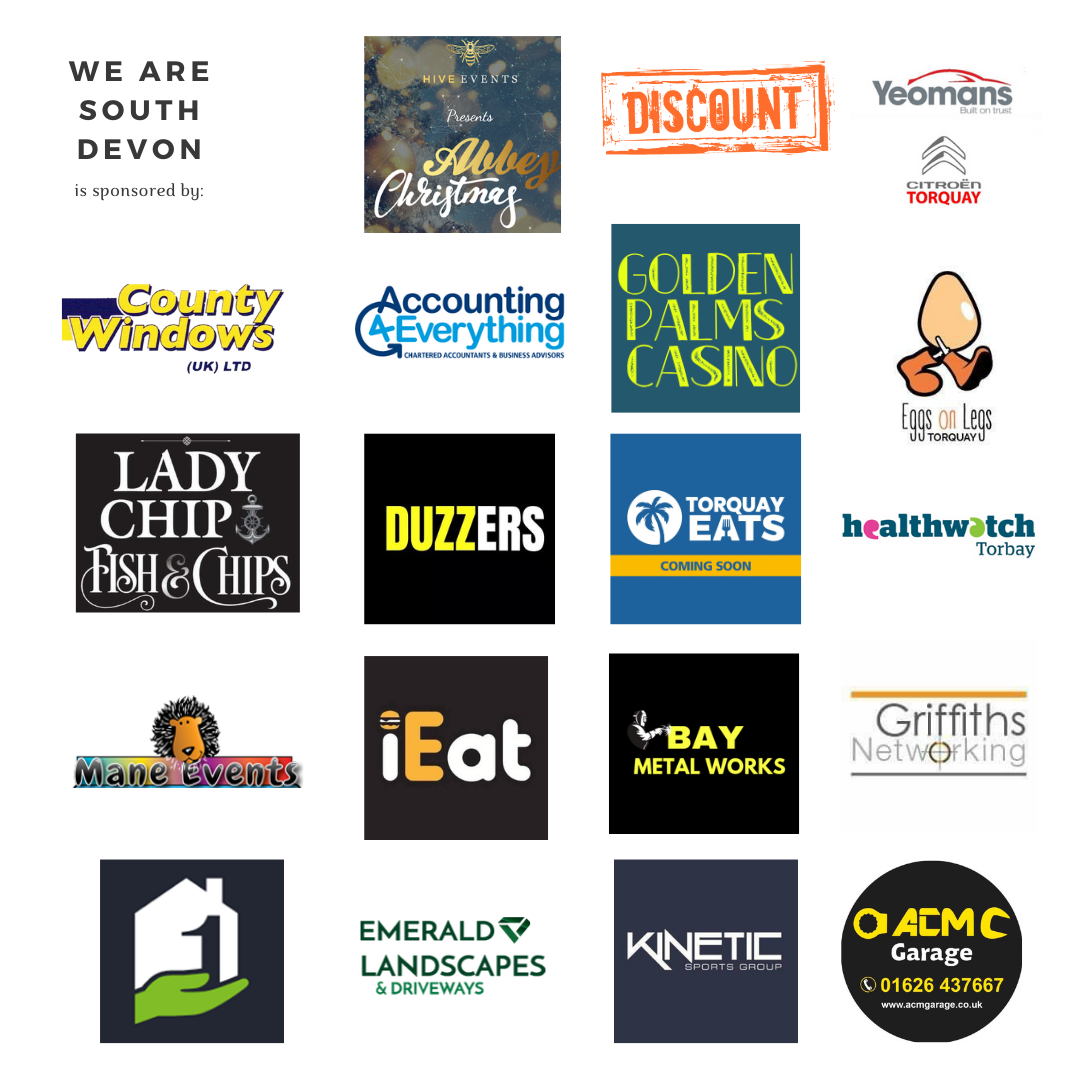 You can join us on our social media pages, follow us on Facebook or Twitter and keep up to date with whats going on in South Devon.
Got a news story, blog or press release that you'd like to share or want to advertise with us? Contact us