Plans to preserve Stowford Mill, the historic landmark in the centre of Ivybridge have now been approved by South Hams District Council. This decision marks a huge step forward for an exciting new development that local councillor's hope will breathe new life into the town.
The restoration of Stowford Mill includes 1 and 2 bedroom apartments in the converted main mill building.  The historic site will also include a restaurant/café, retail buildings and a hotel, together with 32 later living apartments and homes provided for families. There will be areas selected for community use, together with a public square.
It is hoped that this will boost the local economy by providing a destination that people will be drawn to through the new facilities which will be on offer.
Preserving the heritage of our market towns is really important to the District Council, they have made sure that Stowford Mill's iconic landmark chimney is kept.  The restoration project has been funded entirely by the building of 97 homes and apartments in the northern part of the town.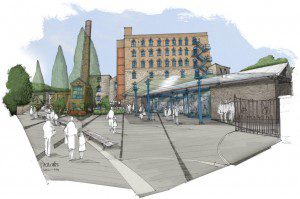 Councillor Michael Saltern, Ward Member for Ivybridge West, said: "This project is an exciting development for Ivybridge and along with my colleagues Cllrs Pringle, Cuthbert and May I am thrilled with the decision to go ahead. There will be new opportunities for work which will replace the jobs lost when the mill closed. This is a fantastic addition to our town."
SHDC has worked closely with the landowner, to bring forward a renovation scheme and development which is sensitive to the heritage of the site and the social and economic needs of Ivybridge.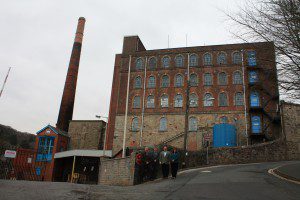 The site is owned by developers, Burrington Estates, who recently announced the purchase and regeneration of 'The Ship' in Derriford, Plymouth.  Founders of Burrington Estates, MarkEdworthy and Paul Scantlebury, commissioned the design plans from LHC (Lacey, Hickie and Caley) Architects.
Mark Edworthy, co-founder of Burrington Estates, said: "We are delighted to have achieved planning permission for this exciting mixed use development and beautiful Dartmoor inspired housing, a vibrant environment with nice restaurants, a small hotel and boutique retail. We are very excited about starting the construction phase on this project, which will deliver a legacy development for the town of Ivybridge."
The site is being project managed by Expedite and URBN Construction are carrying out some of the refurbishment works.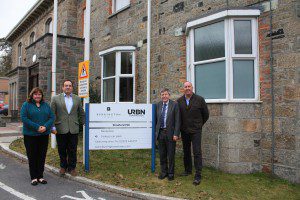 "The regeneration of Stowford Mill is without a doubt the most exciting project in our portfolio. We have worked extensively with the stakeholders over the past 18 months to ensure the development proposal is sensitive to the historic asset and capable of providing long term employment opportunities in the town. We now look forward to putting all the pre planning work into action."
South Hams District Council hope that the rich cultural, economic and social history of the Mill will be treasured for future generations.
For more community news and info, join us on Facebook: We Are South Devon or Twitter: @wearesouthdevon