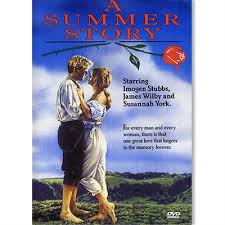 "For every man and every woman there is that one great love. A love that touches the heart, fires the soul and lingers in the memory forever."
This one is for all you Torquay romantics – you know who you are. Prepare to weep as we share the story of the Torquay-set movie 'A Summer Story'.
Here's the background. Nobel Prize-winning English novelist and playwright John Galsworthy (1867-1933) is now mainly remembered for 'The Forsyte Saga', though he also wrote a number of short stories. One of the best known of these is 'The Apple Tree', written in 1916 and first published two years later in the collection 'Five Tales'. 'The Apple Tree' takes its inspiration from the legend of Kitty Jay of Dartmoor's Jay's Grave – that's the real Jay's Gave in the photo below.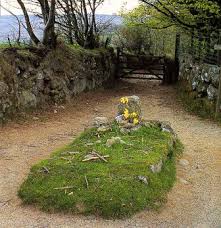 Back in 1946 Orson Wells produced a 30-minute radio version of the tale, and in the early 1970s Peter Bogdanovich expressed an interest but was unable to obtain the rights. However, 'The Apple Tree' did come to the big screen in 1988 in a 95-minute movie called 'A Summer Story'. It was directed by 'Pennies from Heaven's Piers Haggard. Lovers of weird cinema may also be interested to know that Piers also directed 'The Blood on Satan's Claw', 'The Fiendish Plot of Dr. Fu Manchu' and 'Venom'.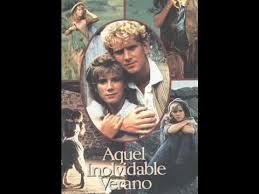 'A Summer Story' is a classic of middle class guilt and the plot goes like this (Spoiler Alert):
Set in 1904, an educated young London barrister Frank Ashton (James Wilby) and his best friend are walking on Dartmoor. A sprained ankle makes Frank seek help at a farmhouse where he stays for a few days to recover. While his friend goes on, Frank and the naïve farm-girl Megan (Imogen Stubbs) fall in love. This upsets Megan's aunt (Susanna York) and her son (Jerome Flynn) who fancies Megan for himself. Frank and Megan spend a night together. In the morning he takes the train to Torquay to cash a cheque at a bank, promising to return the next day and take Megan away with him and marry her. Frank, as we will see, tends to make hasty decisions.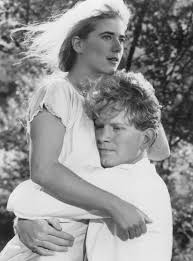 After being turned away by a particularly unhelpful Torquay bank clerk, Frank misses the train he needed to catch to make his rendezvous with Megan. He then meets an old school friend (John Elmes) and his friend's sister Stella (Sophie Ward). By now Frank (the b******) has realised that there is a great social gulf between himself and Megan and that Stella is a better bet. Didn't take him long, did it? Meanwhile, our Dartmoor maiden has travelled to Torquay looking for him, carrying her luggage for the planned elopement. Frank sees her on the beach and follows her into town, but when she turns and catches a glimpse of him, he hides instead of facing the lost and betrayed country girl. I told you he was a b******.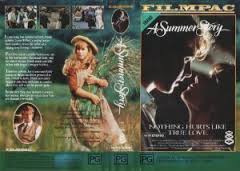 Twenty years later, Frank is married to Stella and they are driving through Devon. They visit the farm where he and Megan had their roll in the – not proverbial but actual – hay  and our anti-hero is recognised. He learns that Megan was heart-broken about losing him – and probably about having to return to the Dartmoor drizzle after having experienced the bright lights of sophisticated Torquay. Frank is told that Megan tragically died soon after giving birth to a son, who she named Frank. Old beardy Frank is taken to see Megan's grave, the very spot where he had arranged to meet her. She wanted to be buried there, to wait for his return. When leaving with Stella, Ashton passes his son, young Frank, who gives him a friendly wave. The couple drive on proving that, even after 20 years, Frank seems to still be a complete b******.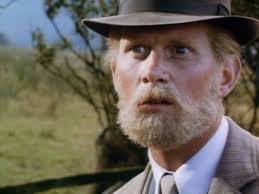 The moral of this, "timeless story of love and powerful parable on the importance of decisions tells how our choices can forever alter the course of our lives."
Though set on Dartmoor, the featured rural scenes were filmed at Lyncombe Farm on Exmoor. The real Torquay had moved on from 1904, so it wasn't practical to film on Torquay Harbourside – the arcades, pubs and fast food outlets could have seemed a little anachronistic!  Consequently, the actual filming of 'A Summer Story' was undertaken in a range of more appropriate Edwardian-looking settings. It appears that Exeter, Dartmouth and Sidmouth were used.
Here's the full movie. To quote Stella, "I suppose we better go on to Torquay", so the episode set in our favourite town starts 53 minutes in:

…