A Devon artist has created an extraordinary superhero – in his garage. Stuart Wright, from Exeter, has built a stunning replica of the famous Iron Man armour on a life-size rhino sculpture.
It's all part of The Great Big Rhino Project, a major free public art event to raise awareness and funds to help Critically Endangered rhinos. The project, run by Paignton Zoo, will put a trail of 40 amazing painted rhinos into the streets, parks and open spaces of Exeter and the English Riviera.
Stuart's rhino heroically highlights the threat facing these Critically Endangered animals. In his words; "Invincible? has been designed to convey the vulnerability of the species, despite their natural armoured form."
This particular rhino looks anything but vulnerable, thanks to the iconic suit of armour that has been carefully sculpted over the last 8 months, creating an imposing character that would look equally at home on the big screen or in the pages of a comic book.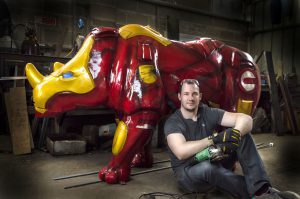 It was painted using genuine BMW and MINI paints donated by the rhino's sponsors, Ocean Torbay BMW and MINI. The eyes and the chest piece have solar powered LED lights that charge during the day and come on at twilight to add a dramatic finishing touch.
Stuart, a self-professed comic book fanboy, has a passion for all things super-powered that is bordering on obsession. He developed a love for the artwork of graphic novels and comic books at a young age and was inspired him to go on and train as an artist.
His interest in comics got him into trouble at college: "When I was studying for my illustration degree I filled sketchbooks with comic book style drawings that my tutors used to get irrationally angry about."
So, is Stuart obsessed? "I have a comic book collection that is so extensive that I have to store it at both mine and my parents' houses. I once attended a cosplay event as Nightcrawler, a character from the X-men franchise. I sprayed my entire body blue and wore hand sculpted latex prosthetic ears, hands and a tail to complete the look. I've had to dial it back a little in recent years, since getting married – sadly, my wife doesn't share my affinity for all things comic book. Although I think she is starting to come around…"
Stuart has tried sculpting characters before on a much smaller scale, and is considering giving it another go, having been inspired by the Great Big Rhino Project.
The Great Big Rhinos arrive in Exeter and the English Riviera on Saturday 30th July. Money raised will be channelled through Save the Rhino International. Rhinos have been around for 40 million years; there are five species: black, white, greater one-horned, Javan and Sumatran. All are threatened with extinction – three are Critically Endangered as defined by the IUCN (World Conservation Union). This means that they will not survive without massive and urgent action. Twitter @Greatbigrhinos, hashtag #greatbigrhinos.