A taxi driver in Torbay has reportedly been suspended after photographic evidence was supplied to the Taxi company for which he was working.
The unnamed man was driving young teenagers when one of them sent a photo to their parents of the driver using his handheld mobile telephone whilst driving. The driver also demanded a higher fare be paid by the children then that which was quoted to their parents.
The original fare was quoted at £12.10 and the driver demanded £15.40 from his young passengers. The photograph of him driving whilst using a telephone was taken on Shiphay Lane in Torquay.
He has reportedly been suspended from duty and the children's parents have been promised a full refund by the taxi company in question (which they are still waiting for) after this was the second complaint in the same day for exactly the same reason.
Torbay Councils licensing department have been notified of the incident as too have Devon and Cornwall Police using Operation Snap, whereby members of the public can send photographic or video evidence of driving related incidents to them for investigation and possible prosecution.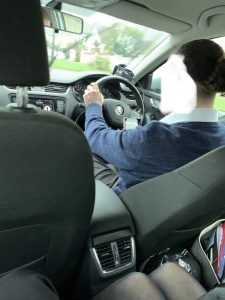 Since 2003, it has been a specific offence to "use a hand-held mobile phone or other hand-held device for the purpose of any interactive communication (such as messaging, making or receiving calls or accessing the internet) while driving or while supervising a learner driver." This carries a penalty ranging from 6 points and a fine to driving bans and a fine should the courts decide the need arises.
Approximately 1 person dies every fortnight on U.K. roads as a result of a driver using a mobile phone according to Department for Transport statistics. Drivers could face a sentence of life imprisonment for causing death by dangerous driving.
The taxi company have made no comment and Torbay Council has said "I can not make any comments on complaints we are currently dealing with".