South Devon Healthcare NHS Foundation Trust and Torbay and Southern Devon Health and Care NHS Trust said a special 'thank you' to the volunteers, who give up their time to help make a difference to many patients and their carers.
The two local Trusts held their fifth annual Volunteers' Tea Party on Friday 5 June in the Bayview Restaurant at Torbay Hospital. The event was an opportunity for the Trusts to say 'thank you' to the volunteers for their commitment and hard work throughout the year.
More than 800 people volunteer across the two Trusts, many working on site at Torbay Hospital and within the 9 community hospitals and other sites run by Torbay and Southern Devon Health and Care NHS Trust.
Mairead McAlinden, Chief Executive at South Devon Healthcare NHS Foundation Trust, said: "We are so lucky to have such a large number of passionate and dedicated volunteers in our community. Volunteers enhance the services that we provide and we know that what they do is truly appreciated by all the people they help.
"This tea party is just a small token of our appreciation and a chance for them to take some time out to relax with their colleagues."
Mandy Seymour-Hanbury, Chief Executive of Torbay and Southern Devon Health and Care NHS Trust, officially opened the event.
Volunteers from Torbay Hospital Radio kindly provided entertainment for the afternoon with everyone enjoying the music whilst savouring their afternoon tea.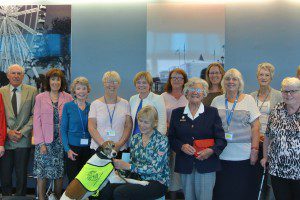 Bob Thorp, a mealtime companion and also a Hospital Radio volunteer, said: "I volunteer because I love people! It was good to see the volunteers appetites were as good as their commitment on a really fun-filled Friday."
The volunteers' tea party fell within National Volunteers' Week (1 – 7 June) which is a week when thousands of volunteers, in a range of diverse roles across the UK, are celebrated for their valuable contribution.
The mealtime companions both at Torbay Hospital and the community hospitals continue to help improve patient nutrition by actively encouraging or enabling patients to eat in a calm and sociable atmosphere.
Other roles include helping out as walk leaders in the Bay Walks scheme, which is a programme of regular led walks in Torquay, Paignton and Brixham, patients' meet and greet services, health trainer champions and Breast Care Friends, who provide much needed support to women undergoing breast reconstruction following cancer treatment.
If you are interested in volunteering or would like more information please contact volunteers.sdhct@nhs.net .