We all know that Torquay hosts good number of 'characters', rule-breakers and, let's be honest, cranks. This goes back a long way. Indeed, from our very beginnings as a resort we had those who had an alternative take on life.
Two of those early pioneers of the eccentric were the Alphington Ponies.
These were the twins Arabella and Eliza Durnford. They were born on 30 December 1800, the daughters of Lieutenant-Colonel Andrew Montague Isaacson Durnford and Barbara Ann Blake Shea.
Barbara Ann was the illegitimate daughter of Sir Patrick Blake by Peggy Shea, "a Mulatto woman" on Patrick's plantation in the West Indies. For a time they lived in Alphington, then their father ran off with their governess. Arabella and Eliza were engaged to be married to two brothers but one of them accidentally shot the other one dead. The remaining brother reportedly died from grief.
The sisters then relocated, where else, to Torquay. There they lived with their mother in Lavender Cottage in Avenue Road, close to the Abbey's Gates. As they had no servants, all three shared the housework which clearly identified their lowly social status to others.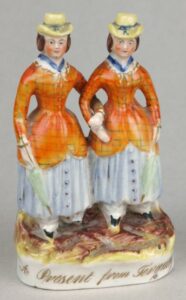 When the two sisters arrived in Torquay from Alphington, near Exeter, they had brought with them a pair of ponies. However, always financially embarrassed, they had to sell the beasts and the name of the Alphington Ponies then transferred to Arabella and Eliza.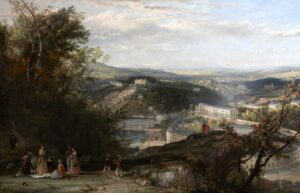 The Ponies can be seen in the bottom right of the painting
It was during the 1840s that the two became associated with Torquay where they were described as being of "a very unique appearance". They became local celebrities and can be seen in paintings of Torquay as well as ceramic collectibles of the time.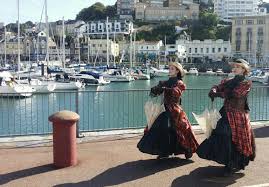 Sabine Baring-Gould's 1908 book 'Devon Characters and Strange Events' tells us:

"They had been pretty young girls and it is recorded that the sisters had a look of intelligence and the expression of their faces was most amiable and pleasing. Now they were so heavily made up that they looked like painted dolls.

"Their dress was most peculiar and the style only varied in 'tone and colour', their shoes were generally green but occasionally they were red. Their brown curly hair was fastened with blue ribbon and they wore straw or felt hats, which usually had tall crowns and the sides curled up. Around their necks they wore broad frilled or lace collars that fell down over their backs and chests for quite some way.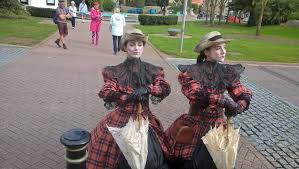 "In the summer their necks were bare except for numerous coral or bead chains. Their gowns were so short and they showed so much of their ankles that certain heavily frilled cotton under garments could be seen. In the winter they wore checked jackets in a 'loud' pattern that reached their knees. These jackets had lace cuffs and were different colours to that of their gowns. The only things that they wore in place of the jackets were grey-coloured shawls that crossed over their fronts and tied behind at their waists. They were never without their parasols either in summer or winter."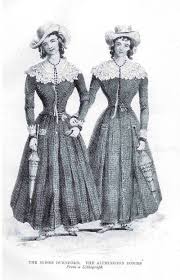 It's suggested that their heavy white make up was an attempt to disguise their mixed-race heritage.
At about 3pm each day the sisters would take a walk along The Strand and Victoria Parade, always arm in arm, perfectly in step and only speaking to each other.
They often got into debt and local shop keepers soon insisted on receiving full payment before handing over any goods. On one court appearance they said to the judge,

"Oh Mr Praed, we cannot pay now, but my sister is about to be married to the Duke of Wellington, and then we shall be in funds and be able to pay for all we have had and likely to want".

On another occasion the two visited a shop and, after giving an order, presented half of a £5 note. They said that when they had received the other half, they would be pleased to discharge the debt – the tradesman declined the offer.
Eliza died in 1866 and Isabella in 1871.

Though marginalised by Torquay Society, we still celebrate the two sisters.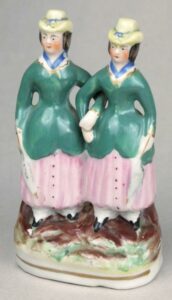 Their walks are often replicated, while their contribution to the pantheon of eccentric locals is remembered in those Victorian souvenir ceramics.

'Torquay: A Social History' by local author Kevin Dixon is available for £10 from Artizan Gallery, Lucius Street, Torquay, or:


https://www.art-hub.co.uk/product-page/torquay-a-social-history-by-kevin-dixon?fbclid=IwAR0i4IhQwcQkGwRXMdphbhzUyuHZ2N3w_ZbSWIpB3_F7ghYnbFHYQyOzcQk