"You're not in London now!"
Back in 1949 the romantic comedy drama 'Adam's Rib' starred Katharine Hepburn and Spencer Tracey as married lawyers who come to oppose each other in court. The film was well received and is considered a classic.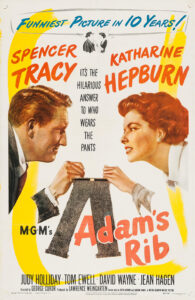 In 2015, almost 70 years later, British writer Sally Abbott wrote 'The Coroner' and based a pair of her characters on those played by the two Hollywood stars. She also relocated the action from the mean streets of New York to the parking nightmare of Dartmouth.
The Coroner was screened during the daytime and lasted for two series, each of 10 parts. It starred Claire Goose as single mum and action coroner Jane Kennedy who returns to her fictional South Devon hometown of Lighthaven.
Once set up as the local coroner, Jane is supported by Detective Sergeant Davey Higgins (Matt Bardock) of the South Dart police; a force faced with a crime wave only experienced elsewhere in places such as South Los Angeles, but at least we have cream teas. Both these actors had previously served the NHS in BBC 1's medical drama Casualty.
We know we're in the far South West as Davey appears to have acquired an accent from watching Pirates of the Caribbean movies, as do many of the surrounding locals.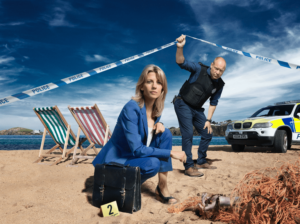 We soon find out that Jane and Davey were childhood sweethearts until Davey broke Jane's heart; and their 'will they- wont they' relationship simmers below the surface – bet you didn't see that one coming? Some commentators have described this as "unresolved sexual tension" though this is probably pushing it a bit far… this was shown mid-afternoon after all.
Sally Abbott created 'The Coroner' from an idea by Will Trotter, executive producer and head of BBC Drama Birmingham. Yet the location could just as easily have been the Cotswolds as first suggested. As this would also not have been London-set, the cast may well have got away with using the same accents.
The idea was to have self-contained stories with drama and humour; a formula utilised in Father Brown from the same production team. The other massively successful template was Doc Martin which utilised a similarly fictional Portwenn. Nine series of Doc Martin have been made (so far) between 2004 and 2019, with a television film on Christmas Day in 2006. Yet The Coroner never did attain the same following.
There was even a bit of a controversy when MR Hall noticed that his best-selling books had a similar theme. One was called 'The Coroner' and featured a forty-something female solicitor returning to the West Country to take up the post of coroner, for example. But the BBC insisted it was a coincidence, so that was all right.
Over the 20 episodes our intrepid pair investigated sudden, violent or unexplained deaths across South Devon. And there seemed to be many to choose from. In fact, the Torbay-South Hams crescent seems to have a middle-class body count equivalent to ITV's Midsomer; including lethal skydiving accidents, spear gun homicides and a killer big moorland cat.
The locations used by The Coroner were mostly from around South Devon. Among them are Hope Cove, Dartmouth, Totnes, Brixham, Broadsands, Paignton and Torquay.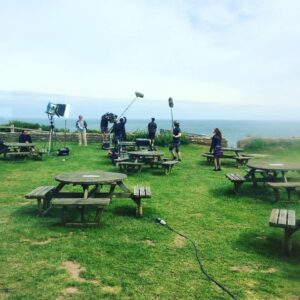 So we have Dartmouth's Bayard's Cove as the location of the Coroner's Office in the old Customs House. Totnes' Mansion was used as the Coroner's Court; Plymouth Royal William Yard and Kent's Cavern also turn up. The exterior and interior of Oldway Mansion is used as Lighthaven's Town Hall and, since we're in Devon, beaches feature a great deal, including Blackpool Sands and Slapton.
Less easily identified is 'The Black Dog Inn', which was once 'The Crooked Spaniards Inn' and is actually in Cargreen, Cornwall. The backdrop for the first episode similarly and confusingly features a non-South Devon location, The Tower at Gribben Head in Cornwall.
And, of course, when the producers wanted to give a bit of contrast to the picturesque killing fields of the South Hams, while illustrating a bit of urban edginess, they used Torquay; Ellacombe and Rock Road to be precise.
Despite it inexplicably being shown in the afternoon, rather than in a prime time evening slot, series one was still seen by 1.7 million viewers. The programme also led to a 44% rise in traffic to the 'Visit South Devon' website on the very first day of the series.
Commenting on this interest, Sarah Stride for 'Visit South Devon', said: "The Coroner was filmed in South Devon. With miles of sandy beaches, historic villages and fishing harbours, the South Hams, which was used extensively in filming, provides the perfect backdrop and is set to show of the raw beauty of this wonderful part of the country to millions of potential visitors."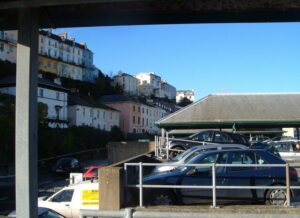 A dedicated 'Coroner Locations' website was even set up so visitors could visit the blood-soaked places they had seen on screen. However, Torquay locations such as romantic Ellacombe, scenic Rock Road and the splendid Fleet Walk post-Soviet multi-storey car park were missed out. Accordingly, Torquay wasn't included in that particular tourist trail.
But even though The Coroner enjoyed success and garnered solid reviews, in March 2017 the BBC axed the show. The Corporation issued a statement: "After two fantastic series, The Coroner won't be returning as we look for opportunities to bring through new programmes for the BBC1 daytime audience. We'd like to thank the brilliant cast and production team for all of their hard work."
Presumably more resources were needed for Mrs Brown's Boys. Nevertheless, repeats of The Coroner can still be seen on both the BBC and Freeview channels.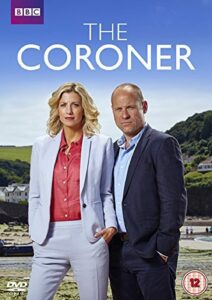 Since then the Torquay-Kingsbridge-Totnes death triangle has gone a bit quiet.
For years now we have been spared; Merrifield murders; Dittisham drownings; Strete snipers; Prawle poisonings; Rattery reanimations; Ashpringrton assassinations; Foxhole freezings; Dartmouth disembowelments; Galmpton garrottings; Ilton infanticides; Slapton sabotage; Ringmore rockfalls; and Paignton pirate attacks.
Finally it is safe to venture forth.
Lest we forget: