Take a look at the two images above and below.
Depending on where you're reading this, one should bring out feelings of belonging and images of home; the other a sense of alienation or even loathing.
This isn't simply about personal preference on how to consume a baked good. We're talking about: cultural appropriation; science versus tradition; colonialism; the suppression of an entire nation; and of a thousand year proxy war between Anglo-Saxon and Celt.
As we all know, the difference between cream teas in Devon and Cornwall comes down to how it's served. Both versions have the same basic items: tea, scones, jam, and clotted cream. Here's the crucial difference: in Devon, the scones are topped with cream, followed by jam; in Cornwall, they are topped with jam and then cream.
The important ingredient here is the cream – clotted cream originates from the South West and is a speciality of Devon and Cornwall. So, while you can get cream teas in other parts of Britain, the northern heretical 'cream tea' may well be accompanied with whipped double cream, which is clearly an abomination.
Notably, the Devon method is used in neighbouring counties and other Commonwealth nations, and for some Cornish patriots this is further proof, if needed, of Saxon hubris. Indeed, wherever we have planted a Union flag there may be a cream tea. Oddly, scones and tea served in Australia meet the convention of the Cornish cream tea (but with lighter whipped cream), yet they call it Devonshire Tea.
And we should be particularly aware of the sensitivities of our American visitors whose knowledge of the South West is primarily informed by the Baskerville Hound, Straw Dogs, Agatha's body-count novels and of a people who talk like pirates. To those venturing to those strange territories beyond Bath a warning is given: "A cream tea should not be confused with the very old English custom of afternoon tea, which is more of a meal."
But this is all just a bit of fun isn't it? No-one is going to get too upset about the issue, are they?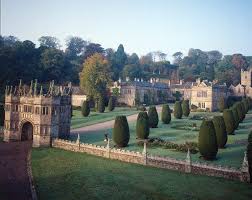 In 2018, the National Trust had to issue an apology following an advert run by their Cornish property Lanhydrock House. This scandalously depicted a scone with jam on top. Some locals branded this marketing error as an outrage and ultimatums arrived suggesting that true Cornish folk should cancel their National Trust membership to resist Devon's imperial ambitions.
"There are some things you don't do National Trust, and putting a picture of a DEVON cream for a CORNISH cream tea event is disgusting"; "Shame on you NT. This is cultural vandalism. Scone, then strawberry jam then clotted cream. Anything else is not the Cornish way. This message is not tongue in cheek!"
As this is such an issue of identity, the exact origin of the 'cream tea' is intensely disputed.
Going back just about as far as you can go, we have Cornish Food historian, Alan Davidson, claiming that clotted cream originated in the county in 500BC. Apparently the Phoenicians (from what is now Lebanon and Syria) sailed to Cornish shores and traded their art of cream making called 'Kaymak' for Cornish tin. I did begin by saying that this issue is crucial for some.
Oddly, so far, King Arthur hasn't been included in the myth-making, but give it time.
To counter this, other historians, examining 11th century manuscripts, identified a tradition of eating bread with cream and jam at Devon's Benedictine Tavistock Abbey – the monks were apparently feeding a proto-cream tea to local workers who were restoring the Abbey after it was plundered by Vikings in 997AD. I'm not making this up.
This trawling of ancient texts perhaps has a parallel with the debate about who invented the sandwich. Just as someone before the Earl of Sandwich must have thought of putting something edible between two pieces of bread, some individual must have discovered that dairy, fruit and bread go together quite nicely.
Anyway, this was all, needless to say, before we had tea to accompany the scones.
While the custom of drinking tea dates back to the third millennium BC in China, it was popularised in England during the 1660s by King Charles II and his wife, the Portuguese Catherine de Braganza, who famously brought the custom of drinking tea to court.
Then in 1706, merchant Thomas Twining opened London's first tearoom. Before long, tearooms appeared across the city, offering a facility more suited to women than the male-oriented coffee houses.
The apocryphal story is that around 1840 the Duchess of Bedford became peckish mid-afternoon while waiting for her eight o'clock dinner. The solution was a pot of tea and a light snack, initially taken privately and then as a more social occasion. Before long all of fashionable society followed her example.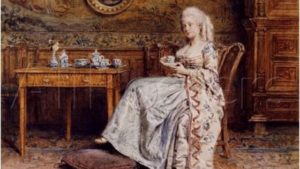 This afternoon tradition then evolved and mutated in the West Country in the 1850s during the tourism boom generated by the opening of the railways. Hotels, tearooms, farmhouses and cafés offered afternoon teas, made with unique ingredients sourced from local bakeries and dairies.
Some of the above is probably tourist twaddle, however.
The cream tea in its true modern sense doesn't seem to have even been mentioned until 'The Cornishman' newspaper on 3 September 1931 used the phrase. Then we have a reference in the 1964 novel 'Picture of Millie' by Philip Maitland Hubbard, "We just bathe and moon about and eat cream teas."
Let's return to our core question. Which is correct- Cornwall or Devon in their jam/cream ordering?
The Queen reportedly prefers jam first, according to a former chef who worked for the royal family from 1982 to 1993: "The Queen always had homemade Balmoral jam first with clotted cream on top at Buckingham Palace garden parties in the royal tea tent and all royal tea parties."
Possibly taking this lead, etiquette obsessives Debrett's say that jam comes before cream.
Devonian rationalists, on the other hand, argue that in Devon cream is seen to be like butter, and you wouldn't put butter on jam. It's also argued in Devon that, when jam was expensive, you would have less of it, so would put it on top.
Conversely our neighbours beyond the great river hold the opinion that: jam is easier to spread; and that you wouldn't put cream on the bottom of a fruit salad. They even have a, kind of, rhyme: "Don't treat your clotted cream like butter, and your scone will be all the better".
More recently the scientific community- taking time out from resolving the issue of climate change – decided to enter the fray. Food scientist Dr Stuart Farrimond and baker Mich Turner identified a formula for a perfect cream tea – a 40g scone served with 30g of cream and 30g of jam – to achieve the 'hedonic breakpoint', an ideal level of height and sweetness.
Crucially, Dr Stuart further concluded that it's also far more practical to apply cream first as it that perfect 4:3:3 ratio.
Tradition or Science, you decide.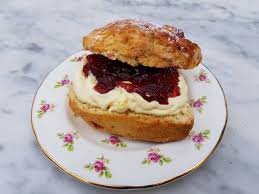 This debate simmered quietly for a few decades until in May 2010 a campaign was launched to have the name 'Devon Cream Tea' protected within the EU under Protected Designation of Origin rules. Predictably this caused Cornish outrage. Now that provocative culture grab seems to come from another pre-Brexit age.
So, if that's all clear, we can move on to another heated debate. In an episode of The Great British Bake Off it was asked whether 'scone' should rhyme with 'gone' or 'bone'? As with the jam/cream debate, nothing was resolved because nothing could be.
Yet the armchair warriors are still out there, glaring at each other from opposite banks of the Tamar and just spoiling for another forever-fight.
So let them move on to consider another emblem of the far South West- the genesis of the humble pasty…