The Scott's Bridge intersection is where the old roads of Torquay, Kingskerswell, Collaton and Newton Roads met.


This was a place at the edge of the cluster of settlements that would become Torquay. It was a boundary, what some call a liminal landscape, spaces that lack clear markers of identity or ownership. They can emanate a sense of in-betweenness, transition, and threshold. In folklore, liminal landscapes are places where people often have odd experiences.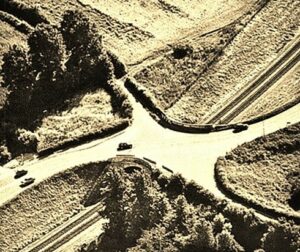 The author Theo Brown's father remembered picking up flint arrowheads around Scott's Bridge.
He told his daughter that, back in 1935,
"When I was a boy, I was told by my father that a manservant was sent up one night into Torquay on a pony to get something. He came up Scott's Bridge at about 10.30pm. it was a very dark night, and when he got to about halfway up the lane the pony stopped dead and refused to move, at the same time he saw a white figure on the gate of a field on his right-hand side.
"Do what he would, it was a very long time before he could get the pony past this gate with the figure on it, but at last it bolted and came home at a full gallop. The man was much frightened and fainted on his arrival. Nothing would ever induce the pony to go down that lane again.
"Also, as a boy I remember that no poacher would send a dog into the field. If they did it rushed out screaming as if something had got hold of it.
"I myself used to keep bloodhounds, and I often went with one of them down this lane, but every now and then at a certain place the hound would stop and start baying. Every hound I ever had did this, and always in the same place. I have frequently been over both hedges on these occasions, but I never found anyone there at all."

(Thanks to Derek Harper for the railway image)

'Torquay: A Social History' by local author Kevin Dixon is available for £10 from Artizan Gallery, Lucius Street, Torquay, or:

https://www.art-hub.co.uk/product-page/torquay-a-social-history-by-kevin-dixon