We like movies made in Torbay and this is one of the earliest. It's 'The Rocks of Valpre', made in 1919 and directed by Maurice Elvey.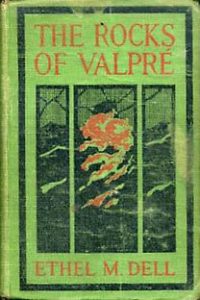 The story is adapted from the popular 1913 novel of the same name by British writer Ethel M. Dell. It's set in the mid-nineteenth century when an officer, wrongly imprisoned on Devil's Island, escapes and heads to Europe to rescue the love of his life from the villain.
Reviews of the novel were mixed – the New York Times called it, "a well constructed and closely knit tale", while others noted its "sentimentality"- the Boston Transcript calling it a, "deft old fashioned novel with much variety of interest and some effective character drawing. It comes dangerously near shipwreck on the rock of sentimentality, but never becomes quite mawkish."
The novel has twice been adapted into a film – there was also a 1935 sound version, but we're not interested in that one! It's the 1919 silent version that draws our attention as it was partly filmed in Torquay.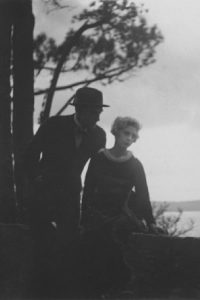 The Rocks of Valpre' was directed by Maurice Elvey (1887-1967), the most prolific film director in British history. He directed nearly 200 films between 1913 and 1957- during the silent film era he directed as many as twenty films per year. Alongside Maurice was Belgian cinematographer Paul Burger while the Art Director was Australian Dallas Cairns.
The 79 minute film used Torquay locations, with our town standing in for France, while the remainder was shot at the Surbiton Studio of Stoll Picture Productions. The company was the largest production firm in this period and in 1921 they moved to larger studios in Cricklewood.
Here's the plot: Trevor Mordaunt (Basil Gill, pictured) is a young French inventor who begins a romance with Christine Wyndham (Peggy Carlisle) who is staying on the French coast with her Aunt (Winifred Sadler). A rival, Captain Rudolphe (Humberston Wright), steals the plans of Trevor's invention, a new design of gun. Trevor is accused of theft by the military, wrongly convicted and sent to Devil's Island. He later escapes and tracks down Rudolphe to clear his name.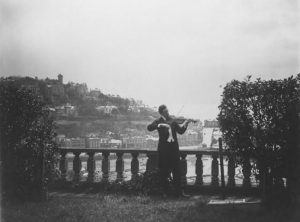 The location filming is around Corbyn Head where the lovers meet on a rocky beach and have to pass the night in a secret cave where clever Trevor is working on his invention. The film uses a title from the book and calls our hero, "The Knight of the Magic Cave". Trevor and Christine are innocents but the local gossips are watching: "Christine's indiscretion". Trevor and Rudolphe fight a duel with sabres on the cliff top overlooking the Bay. All's well that ends well and Christine silently announces, "You fought on my account!"