Plans have just been submitted to convert the old Torquay Magistrates' Court into ten residential apartments. Pre-Lockdown, there was a proposal to turn the building into a GP Surgery but that didn't come off.
At one time the court dominated the area.
Opposite is the now closed Wig and Pen/Jolly Judge public house. Optimistic entrepreneurs believed that if they opened a high-class venue it would attract the legal officers from the court house. And so they changed the name from the Exeter Inn, covered the walls in images of bewigged judges and barristers, and offered a nice bar menu. This being a Torquay steeped in irony, however, the bar became a favoured watering hole, not of passing solicitors but their clients.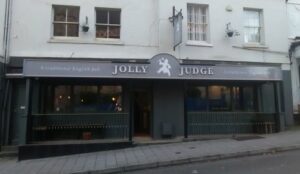 The Union Street Magistrates' Court closed in 2017 as part of a reorganisation of local services, with cases moving to Plymouth or Newton Abbot. Since then the building remained derelict. But before it does change use, or falls down, or catches fire, let's remember one of its original functions.
On August 6, 1945, the United States detonated two nuclear weapons over Japanese cities. By the late 1950s the US and the Soviet Union had both acquired an arsenal of nuclear weapons, and as the decade ended fears of world-wide annihilation had become acute.
Fears of total human extinction were lived every day and for children growing up in the Cold War, Mutually Assured Destruction (MAD) haunted their dreams.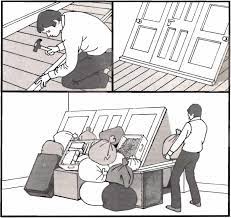 Across the world serious preparations were made for nuclear war and hundreds of bunkers were built to give the population a chance of survival if the unthinkable happened. Of course, Torquay wasn't going to allow (some of) its residents to go unprotected from shock waves, radioactive debris or fallout resulting from a nuclear explosion, so we built a civil defence and command centre too.
Meanwhile, the general public were advised to get under tables and wrap a wet towel around their heads.
The Torquay 'bunker' is still there.

Built as part of the 1960s construction of the court house, the concrete-lined shelter has heavy steel blast doors, designed to absorb the shock wave of a nuclear blast. It has its own ventilation system, two kitchens and toilets – which presumably wouldn't have cost 30p.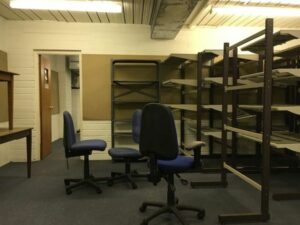 There are a number of rooms for living quarters – now filled with shelving – and it has its own heating and water system. It was expected that inhabitants should have 1-2 gallons per person per day. The bunker has a dedicated escape exit onto Union Street – or what was left of Union Street post-World War Three– for those who could leave after their expected two weeks' residence.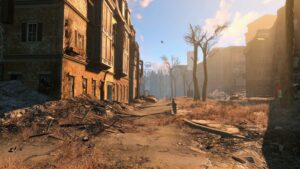 Then, across our nation, those lucky few could begin the task of repopulating the planet…
Incidentally, alcohol makes the body resistant to radiation. Accordingly, the ladies and gentlemen of Castle Circus would have a higher chance of survival after Armageddon. Perhaps Torquay resident Charles Darwin would have seen this as another example of Torquinian irony… a sort of survival of the not-so fittest….