The Speakeasy Cinema is screening the 1964 film The System in The Spanish Barn at Torre Abbey on Thursday 19 August. Starring Oliver Reed and Jane Merrow and filmed on location across Torbay, tickets are selling fast: www.torre-abbey.org.uk/whats-on/the-speakeasy-cinema/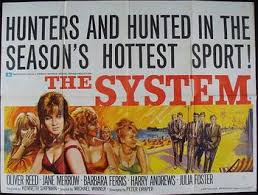 One of the less remembered actors in The System was Talitha Pol. She plays Helga, a German tourist and the first girl to be hit on by Oliver's army. She's pictured here in the movie; one shot is of the 400 scene.

Actress, socialite, and model, Talitha was a style icon who studied at the Royal Academy of Dramatic Art. Her beauty attracted a number of admirers, including Rudolf Nureyev. She married John Paul Getty Jr, son of the oil tycoon Paul Getty in 1966. As this was the sixties, she married in a white miniskirt, trimmed with mink.


Right at the centre of that Swinging Sixties scene, she was friends with Mick Jagger and Marianne Faithfull. Talitha was also involved with the young French aristocrat Count Jean de Breteuil. Faithfull remembered that that Breteuil "saw himself as dealer to the stars". Keith Richards recalled that John Paul and Talitha Getty "had the best and finest opium"; and it's been claimed that Breteuil delivered the drugs that killed Jim Morrison.


Yves Saint Laurent likened the Gettys to the title of the 1922 novel by F Scott Fitzgerald as "beautiful and damned". By 1969, the Gettys dissolute lifestyle caused Talitha to pursue treatment for heroin and alcohol addiction.


She was the stepmother of John Paul Getty III  who was later kidnapped and held for ransom by the Italian mafia.
On 11 July 1971 Talitha was found dead the Getty apartment in Rome from a heroin overdose; she was 31. Talitha died within the same 12-month period as Jimi Hendrix, Janis Joplin, Edie Sedgwick and Jim Morrison.

Count Jean de Breteuil died in the family mansion in Tangier, just a year later, aged 22, also from an overdose.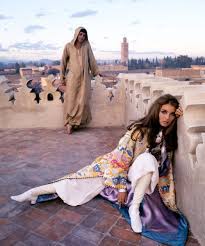 Talitha is probably best remembered for an iconic photograph taken on a roof-top in Marrakesh in January 1969 by Patrick Lichfield, now in the National Portrait Gallery. This was hippie chic.

John Paul Getty became a philanthropist and received an honorary British knighthood in 1986. His luxury yacht, built in 1927 and renovated in 1994, was the MY Talitha G.
The story of the kidnapping of Talitha's step son 16-year-old John Paul Getty III is told in 'All the Money in the World':