If you are a regular to this website, you will know that we followed Melanie Thornton through her pregnancy with triplets in her fantastic blog.
Next week, you will be able to see Melanie on TV in ITV documentary 'The Triplets Are Coming!'
The 2 part series starts tonight at 9pm. The ITV said on its website:
"With around 200 sets of triplets born every year in Britain, this brand new, two part, intimate, sensitive and joyous documentary series, allows viewers a unique insight into the journey faced by couples expecting two or three babies at once.  With exclusive access to the multiple birth clinics at Birmingham Women's Hospital, Torbay hospital and Liverpool Women's Hospital, the programme captures the highs and lows experienced during a multiple pregnancy and the medical challenges facing the couples,"
Melanie and Martin Thornton, from Paignton in Devon will appear in next weeks hour long episode on Thursday 26th March at 9pm.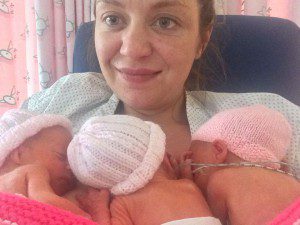 You can read all of Melanie's blogs by clicking here.
To read Melanies latest blog about the birth, go to: https://wearesouthdevon.com/what-a-shock-triplets-birth-story/