During lockdown the 1981 West German war film Das Boot has been regularly on TV. It's the fictionalised story of a German U Boat. But we do have the wreck of a real U-Boat off the coast of Torbay.
This is the submarine U-269, a Type VIIC which was launched on 24 June 1942.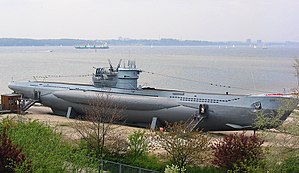 The Type VII U-boats were the most common type of U-boat – 703 boats were built by the end of the war with the lone surviving example on display in Laboe, Germany- (pictured below). U Boat is an anglicised version of the German word U-Boot, a shortening of 'Unterseeboot', literally 'undersea boat'.
U-269 was fitted with five 21 inch torpedo tubes, fourteen torpedoes, one naval gun, 220 rounds, and two twin ant-aircraft guns. This unterseeboot had a complement of between forty-four and sixty.
U-269 first left Kiel on 16 March 1943 to operate from bases in Norway, carrying out two patrols in the Barents Sea in the summer of 1943.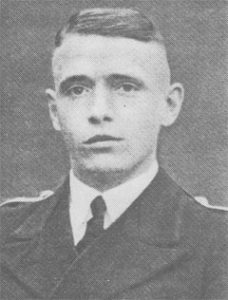 Reassigned to the 6th U-Boat Flotilla, on 4 November 1943 the U-boat left Bergen for her third patrol in the Atlantic, but on 1 December was attacked and seriously damaged, forcing U-269 to abort her patrol and seek refuse at St Nazaire on the French Atlantic coast.
In France, command was assumed by Oberleutnant zur See Georg Uhl (pictured below), who made one short patrol in the Bay of Biscay in May 1944, and then left Brest on June 6th (D-Day) to Guernsey. She then sailed into the Channel on her final patrol.
On 25 June 1944, U-269 was south-east of Torbay and was detected by the frigate HMS Bickerton (pictured) and attacked with depth charges. The first attack knocked out all the lights aboard the U-boat and the second ruptured the seals on the drive shafts, allowing water to rush in. The third depth charge destroyed pipes, valves and electrical connections.
The situation was hopeless and U-269 surfaced, prepared to abandon and scuttle the boat. The submarine surfaced but immediately began to sink, while the survivors swam away or escaped on rafts. The Bickerton picked up 39 survivors, though 13 died, including Captain Uhl.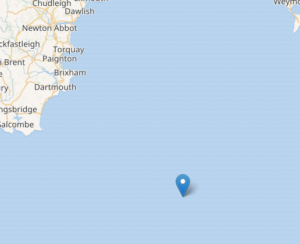 Despite taking part on in three wolfpacks during its career the submarine failed to sink or damage any vessels. On the other hand, it didn't lose any crew before its sinking. In contrast, Germany's U-boat fleet suffered extremely heavy casualties, losing 793 U-boats and about 28,000 submariners. This was a 75% casualty rate, the highest of all German forces during the war.
As for HMS Bickerton, on 22 August 1944 she was hit by a torpedo from another U-Boat. She was subsequently scuttled by a torpedo from the destroyer HMS Vigilant.
The wreck of U-269 was found in 1951 and the location can be seen below.