Our latest WASD homage to movies filmed in glorious South Devon is to the Totnes-set 1955 comedy 'Where There's a Will'.
The movie was directed by Vernon Sewell and starred Kathleen Harrison, George Cole, Leslie Dwyer and Michael Shepley. The script was by RF Delderfield, who adapted one of his own plays – he also wrote the novel that formed the basis of the BBC TV series 'To Serve Them All My Days'.
This fish-out-of-water comedy begins with an elderly farmer being blown to bits when he uses his walking stick to poke one of those land mines so common around Totnes. It transpires that he has died without leaving a will and so his farm passes to his three London nephews and nieces.

On arrival the family discover that the farm is almost derelict and so set about making repairs. While two of them wish to sell the farm, the third, Fred Slater, decides he likes the rural life and wants to become a farmer. Facing the hostility of his family, and some of the locals – this is rural Devon, after all – he attempts to renovate the farm before its mortgage is called in by a rival neighbour. Help and advice comes from a local housekeeper (Kathleen Harrison) who tries to motivate the work-shy Londoners into taking on the task at hand. Intriguingly all the Devon locals seem to have acquired a bizarre and very fluid Welsh/Scottish accent. It all ends well as it always does in these movies.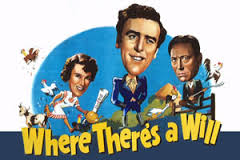 This was an early outing for the rent-a-spiv character which George Cole would later perfect as Arthur Daley in the long-running ITV comedy-drama 'Minder'. And that's a young Edward Woodward (58 minutes in) in his first role as the son of the rival neighbour – long before starring in 'Callan' and 'The Equalizer'.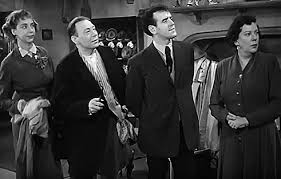 'Where There's a Will', however, one of those many British comedies that do seem to be laugh-free, but perhaps our sense of humour has changed over the years?
Anyway, be careful walking those South Hams hedgerows… and that's Staverton 2.40 in: