Thousands have been raised for a Preston woman following a major blaze at the weekend.
Almost £4000 has been donated following a bungalow fire in Preston, Torbay which left Elsie 85, with nothing.
The fire, at the weekend saw Elsie left with nothing. The blaze happened on Saturday morning.
Elsies bungalow was severely damaged. Unfortunately, Elsie was not insured.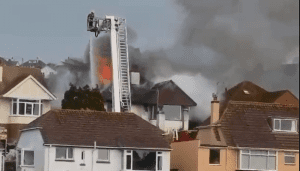 A friend of Elsies set up the fund after people asked to donate and so far over £3860 has been raised.
To view the fund, see: https://www.gofundme.com/Elsie-sfund/
Since then, offers of goods donations and services have some in. Deborah has now set up a Facebook group to coordinate these offers: https://www.facebook.com/groups/551964634941699/ If you are able to help in anyway, please join the group.
Thank you to everyone for their support.
Join us on Facebook:
[do_widget "Facebook like box (jetpack)"]