Torbay airshow have announced today that the world renowned display team, The Blades, has been added to its line up.
The Blades are a full-time civilian aerobatic display team based in the UK and is made up entirely of former RAF Red Arrows pilots.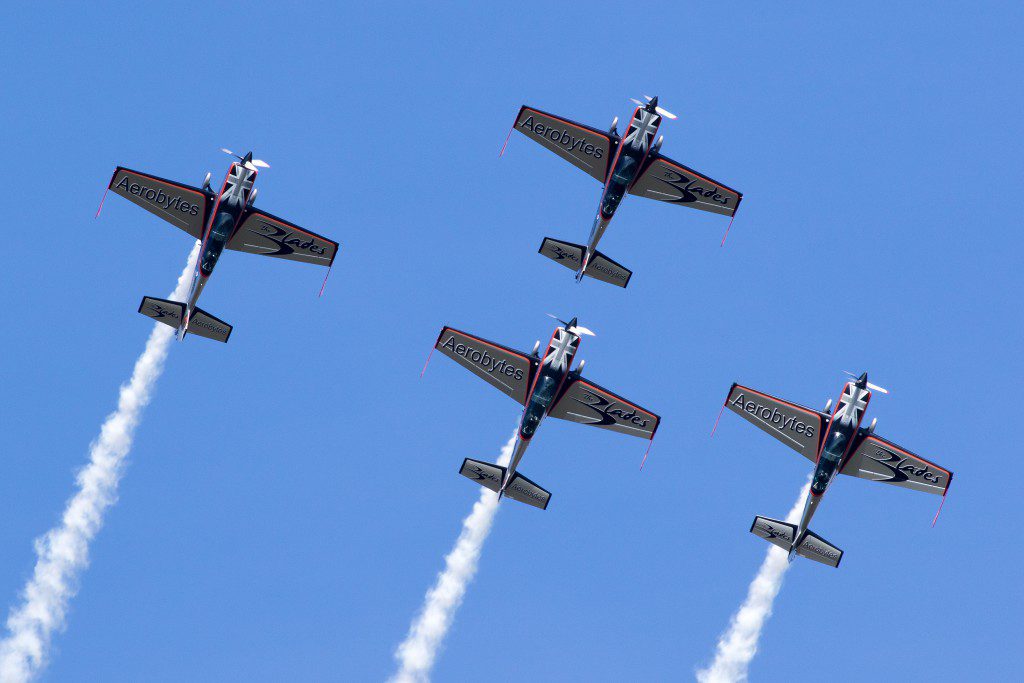 The event which is being held 10th – 12th June is expected to attract over 150,000 visitors.
There will be both a military and civilian flying programme  as well as activities on the ground.
A Torbay Council spokesperson said: "With over 30,000 hours of flying between them, The Blades are amongst the most experienced display pilots in the UK. Add to the fact that all are former RAF fast-jet and Red Arrows pilots and it is little wonder that their air display is renowned world-wide and very much in demand. The display is a fantastic, jaw-dropping sequence of over 30 separate manoeuvres to be flown and yet still leave the audience wanting more."
During the display, aircraft will perform an opposition cross at combined speeds of over 400mph followed by extreme gravity defying solo 'gyroscopic' aerobatics, synchronised rolls, twists, double-tumbles and knife-edge spins. What sets The Blades apart is that there is never a quiet moment in their display, you will be captivated from start to finish.
The Blades fly Extra EA-300s. They are low-wing, high performance aircraft designed for the most adventurous aerobatic manoeuvres and created with advanced aerobatic flying in mind. A competitive aerobatic display pilot during the 1980s, Walter Extra decided to design and build the ultimate aerobatic aeroplane, with optimum structure, weight and performance and the forerunner of today's aircraft was born.
The military aircraft have been confirmed and so far the line-up includes the world's premier aerobatic team The Red Arrows, as well as the Eurofighter Typhoon FGR4, King Air B200, and the Battle of Britain Memorial Flight aircraft – the Hawker Hurricane, Avro Lancaster and The Spitfire as well as The Tigers Freefall Parachute Display Team, the flagship team for the Princess of Wales's Royal Regiment.
A brand new aerobatic team with pyrotechnic formation flying team AeroSPARX. AeroSPARX, unique in airshow circles as it has special clearance to fly at night with pyrotechnics will also be taking to the skies.
The Gyro flying display, also known as a Gyrocopter or Gyroplane, can also be seen over the weekend. This unusual aircraft is great to watch and is described by the pilots as fun to fly. The rotor blades of the gyro are completely freewheeling in flight, being driven solely by the air going up through the rotor disk.
Sponsorship and exhibiting opportunities are still available, to find out more visit
www.torbayairshow.com