When local teacher Katie Cavanna decided to collect donations of food, clothes and bedding to take to refugees in Calais, she expected a few people to offer her their unwanted items. What she got instead, was a 'mountain' of help and support from a host of complete strangers from the Torbay community.
Katie, who regularly supports local charities including Rowcroft Hospice and Macmillan Cancer Support, is an Advisory Teacher for EMTAS. She said; 'I have always been empathetic to the plight of people in war-torn countries. At the age of 10, I wrote a letter to my MP and John Major about my concern for the Kurdish refugees in 1991 who fled the Iraqi attacks. I truly believe that everyone has the right to live in safety and be free'.
'The crisis in Calais is horrendous. I decided rather than just sitting back and wondering how I could help, I would actually go to Calais and try and make a difference. I set up the Calais Refugee Solidarity page on Facebook and in just two weeks, I have been completely overwhelmed by the generosity and compassion of the people in Torbay. We've even been given a free storage unit by Martin Bignall at Quickstore in Torquay. The sheer volume of donations is tremendous and every day I am receiving numerous messages from complete strangers asking how they can help'.
'One of my favourite quotes sums up this project and the generosity of the Torbay community; Those who save one life, save the world entire'.
Katie and a team of helpers, including her fiancé Jay Spinks (pictured), will be taking the donations of items including blankets, sleeping bags, tents, canned food, spices and clothes to Calais on 17th October, to be distributed by the L'auberge de Migrants International Charity. Katie is urging any local individuals or companies who would like to sponsor the cost of van hire and fuel expenses to get in touch.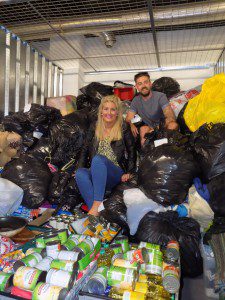 If you would like to donate some items to help refugees in Calais, you can take them to organised collections at the back of Torquay Train Station on either Sunday 20th September from 1pm – 3pm, or on Tuesday 22nd September between 6pm and 7pm. For up to date information and collection information, including a list of items needed, please visit the 'Calais Refugee Solidarity – Torbay' Facebook page.