On Saturday 6 May, Happy Dogs R Us, the first purpose built Doggie Daycare Centre, officially opens its doors.
Happy Dogs R Us is a centre where you can bring your dogs for a fun day out, exercise, socialising with many differing breads, and just enjoying being a dog.
Over the last 9 years, Margaret and Les Snodgrass developed a business of home boarding for dogs. A growing demand for 'Daycare' led them to investigate the opportunity to establish a dedicated centre for our Dogs.
Margaret said: "Some people may have thought we were 'Barking Mad' but we believe this is really good for the Bay. For the many dogs that had been currently left 'home alone' for long periods of time, they now have an alternative, and somewhere safe to come and spend their time, with company from humans and their canine chums. This will help lead the way in improving the welfare and social behaviour of all our loving dogs."
All the staff are trained in modern behaviour methods and animal first aid, and the welfare and enjoyment of the dogs is always paramount.
There are different planned activities throughout the day along with plenty of 'down time' to relax or do their own thing. As well as a large in-door area, there are also two large outdoor areas. The indoor area is divided into four 'zones' and the dogs are put into groups matching their play styles, energy levels and personality. Each zone has its own outdoor area which includes tunnels, agility, ball pools, paddling pools and shelters.
Margaret continued: "The open day is being attended by local professionals who work in the dog industry, helping to raise awareness of the dogs that are in need of help.
"The RSPCA are bringing some of their special dogs to perform the official opening duties. These dogs have been in kennels for a while so getting them seen will be really important for them and the rescue centre."
Little Valley Rescue Centre be the Doggie Daycare Centres' charity of the year and a donation will be made to the Rescue on the day.
As part of the official opening celebrations, dog behaviourist Andrew Hale from 'Train Positive' will be present. Andy has worked with Margaret and Les for several years, and continues to provide ongoing support to the business, and help to all their 'doggie friends'.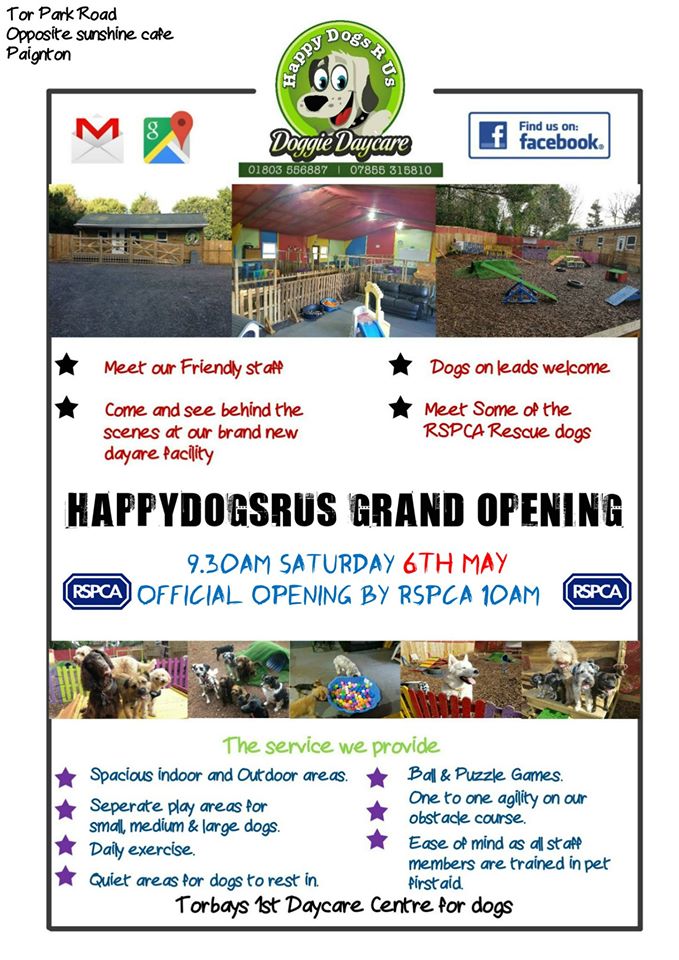 The Centre has been built on reclaimed municipal tip land, which was previously a wasteland with little business potential. Through careful planning and clever engineering the site has been built on special elevations without the need for deep foundations.
The business was developed with the support of TDA, who are also the landlords of the site. The business plan incorporates Torbay Council's Local Plan, with a view to converting brown field sites to be used to provide local services and create jobs. So far, six jobs have already been created at the site, and it is providing a much needed service to the dog owners of Torbay.
For more information visit www.happydogsrus.co.uk or email enquiries@happydogsrus.co.uk
Dog owners and their dogs can attend the Open Day by going along to Happy Dogs R Us from 9:30am on Saturday 6 May to see the dedicated centre.