Single foster carer Peter Prowse from Paignton in Devon has been named as Teenage Foster Carer for 2015 at the FosterTalk Foster Carer Awards, which were held in London last week.
Peter is a foster carer with Torbay Council and started fostering over seven years ago with his ex-wife who was the main carer. Although Peter doesn't have any children of his own, he found that he had a real skill for fostering, especially difficult and challenging placements with attachment issues. Despite the break-up of his marriage, Peter decided to continue fostering alone and currently cares for two youngsters one of whom nominated him for this award.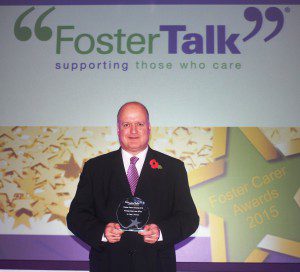 Joshua Mason aged 15 said: "Although I have only been with Peter for seven months, I wanted to nominate him for this award. Peter has been through a lot – stroke, divorce, building crisis and several heart attacks and has remained committed to the children in his care. He has helped me to control my temper and to quit smoking which is really important as I'm having chemotherapy for Acute Lymphoblastic Leukaemia."
Peter said: "It is very exciting to win this award. I foster young people to give them the best future I possibly can. This is rewarding and life changing for them, but also for me! That is why I would recommend being a foster carer. Thank you to my two boys Byron and Josh, who nominated me, who have taught me never to be complacent and always keep me on my toes."
Councillor Julien Parrott, Executive Lead for Adults and Children, said: "Peter has been fostering teenagers, for Torbay Foster Care Service, for over seven years and we consider him a worthy winner of this award. The young people he cares for speak so highly of him and how he offers a genuine home to young people in real need. As Peter says, fostering can be rewarding, and our Foster Care Services continue to encourage people to become carers in the Torbay area, particularly for teenagers. This enables us to provide a better service to vulnerable children and young people who need caring, safe and supportive homes.
"There is a myth that teenagers are hard to foster, but at this age you can really help to transform a young persons life at a key stage of their emotional development. As young people we all had a key person, whether it was a teacher or a youth worker who made an impact on our lives and as a carer you can have a big impact too. I would encourage anyone thinking about fostering to speak to one of Torbay's Foster Care team and find out how they can make a difference to a child or young person's life."
Melody Douglas, managing director of FosterTalk, comments: "We work with foster carers on a daily basis and are proud to be able to recognise the positive impact they make on the lives of others through these awards. We had hundreds of entries which made it very hard for our judges, but this award for Peter is well deserved and we hope it inspires other people to consider becoming foster carers."
The Foster Talk Awards were hosted during National Care Leavers' Week and Peter received his award from acclaimed poet Lemm Sissay MBE who has experience being in care, and comedian and adoptee Rhona Cameron. Broadcaster and journalist David Akinsanya, was also present and spoke of his time in care and of the foster carers who have inspired him. The awards hope to raise awareness about the challenges care leavers face as well as encouraging more people to foster.
Torbay Council's Foster Care Team welcomes enquiries from a wide range of applicants to reflect the diverse needs of children in Torbay. Applications from single people and those in established relationships, regardless of racial or cultural background, sexual orientation, gender identity or age are all accepted. You do not need to own your own home and applying will not affect pensions or benefits.
To find out more about fostering in Torbay go to www.torbay.gov.uk/fostercare. For an informal chat with a member of the council's Foster Care Team call 01803 207857 during office hours or email fostercareservice@torbay.gov.uk.