Torbay Hospital appoints first ever 'sight loss adviser' to support people who are losing their sight
Action for Blind People (Action) has teamed up with Torbay Hospital to provide, for the first time, a sight loss adviser, to provide practical and emotional support to people who are losing their sight. The service, provided by Action, will ensure that anyone who is diagnosed with sight loss can access the support they need to maintain their independence.
The role, also known as an Eye Clinic Liaison Officer (ECLO), has been secured as part of RNIB's (Royal National Institute of Blind People) aim for every single eye clinic in the UK to have access to a qualified sight loss adviser. RNIB campaigners have been working hard in the region to secure a sight loss adviser in Torquay and Action for Blind People, as part of the RNIB group of charities, will now deliver the service which will provide;
Emotional support, information and advice on living with sight loss and maintaining independence.
Details of the latest aids and accessible technology for people with sight loss.
Advice about employment, education, benefits or leisure.
Information relating to different eye conditions and how to register as blind or partially sighted
Edward Doyle, Consultant Ophthalmologist and Clinical Director for Ophthalmology at Torbay Hospital, said: "Our Eye Department is absolutely delighted with the appointment of a new sight loss adviser, as they provide support at the point of diagnosis, when a patient may have received news that, we know, is difficult to digest.
"We are really indebted to Action for Blind People and RNIB for their contribution in making this possible, and to the decision by Torbay Hospital to support the role in the long term."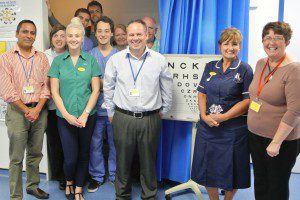 Stephen Weymouth, Business Development Manager, at Action for Blind People said: "For any person, sight loss can be devastating. I am so pleased to announce that Action will be providing a sight loss adviser for residents who have recently been diagnosed or are affected by sight loss in Torbay and South Devon.
"Only 30 per cent of eye clinics in the UK currently have some kind of qualified support in place and our aim, in partnership with RNIB, is to have a sight loss adviser in every eye clinic as no one should face sight loss alone."
For more information and to book an appointment with the sight loss adviser at the Torbay Hospital Phil Smith on 07912 999 061 or visit philsmith3@nhs.net