A special topping-out ceremony took place at Torbay Hospital on Thursday, 6th August to mark a significant construction milestone in the project to provide improved and sustainable cancer services.
Torbay Hospital currently provides cancer services to over 1,000 local people each year. This figure is expected to increase by three per cent over the next year with a continuing upward trend forecast for the future. The exciting £8m project will deliver two new linear accelerators which will enable the hospital to meet demand and ensure that patients receive high quality treatment and benefit from the latest technological advances.
A linear accelerator (LINAC) is a machine that delivers specific ionising radiation to kill cancer cells, this is known as radiotherapy – a standard treatment for cancer. Torbay Hospital currently has two LINACs, however these are reaching their ten year expiration and will be replaced. An additional specialist concrete bunker will be built to give the valuable extra space needed.
This major investment project will see oncology and radiotherapy services integrated to offer a better patient experience. The whole environment will be improved with a welcoming entrance that will give better access for patients and ambulances, separate pleasant inpatient and outpatient waiting areas, new facilities including disabled toilets and changing rooms, and single-sex waiting and changing areas.
The Trust's Chairman (Sir Richard Ibbotson) and Chief Executive (Mairead McAlinden), together with patients and representatives from local community partners, marked the occasion with a ceremonial fixing in place of the final block on the roof of the new bunker.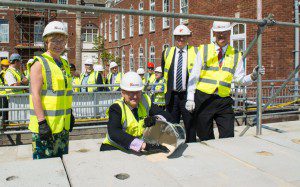 Mairead McAlinden, Chief Executive of South Devon Healthcare NHS Foundation Trust, said: "I joined the Trust just as the work was commencing on this project and with my office overlooking the site, I've had a bird's-eye view of the construction of this very important facility.  I know a lot of effort from patients and staff has gone into the planning, so congratulations and thanks to everyone involved in making our vision become a reality.
"Torbay Hospital prides itself on providing personable and high quality care. This development will enable us to continue meeting the needs of our population, here in their local hospital, with improved facilities to enhance their experience."
Torbay patient Peter Hosking, Chairman of the Torbay Prostate Support Association (TPSA), was diagnosed with an aggressive form of prostate cancer in 1999 and continues to receive treatment at the hospital. Peter said: "From receiving a diagnosis to getting treatment was all very quick and quite overwhelming especially back then as there was very little public information available about the disease. However, being able to get the treatment I needed close to home made such a difference as it meant my wife could be with me throughout. The reassurance and moral support I got from the medical team and my family was outstanding. I've been a regular patient at the hospital for 16 years now and have always been well looked after. You couldn't get more friendly and caring staff."
TPSA, founded by Peter, has raised almost half a million pounds to date and has purchased equipment for the hospital as well as raising awareness and offering support.
Kier Construction, the contractor for the main construction and enabling work, began in April 2015. Brian Rice, Operations Director for Kier Construction, Devon and Cornwall said: "Throughout the project planning stage a huge amount of consideration was given to minimising disruption to patients and staff during construction. The building techniques used have been specifically chosen to reduce the impact upon the operating hospital. The concrete bunker construction is a pre-cast system of blocks that can be delivered and craned in to place and was selected as an alternative to poured concrete that would have seen a much higher number of delivery vehicles passing through the hospital."
It is expected that the LINAC project will be completed by Spring 2016.
For more information and latest updates, visit www.sdhct.nhs.uk.
Follow #HealthierFuture on Twitter for the latest project developments.