A Torbay resident has two reasons to celebrate after finding out he had won first prize in the Torbay Coast and Countryside Trust's raffle to raise money for the Green Heart Appeal which is funding vital restoration work in Cockington Country Park.
Ellacombe resident Mr Sandford and his wife celebrated their 45th wedding anniversary on the very same day they received a call to tell them they had won the first prize of £1000. Mr Sandford said 'when we bought the tickets, we thought nothing of it. We've never won anything before, so we never dreamed we would win first prize, we just wanted to do our bit for a worthy cause'. When asked what he would do with his winnings, Mr Sandford said 'we've just celebrated our 45th wedding anniversary and Christmas is around the corner, so we'll put it in the bank and save it for when we need it.'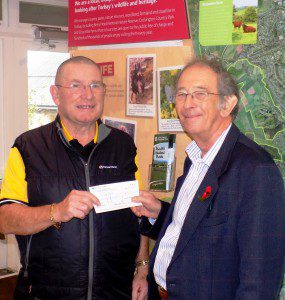 The cheque was presented to Mr Sandford by Torbay Coast and Countryside Trust's chairman and local councillor Alan Tyerman. Alan said 'We were thrilled to hear that Mr Sandford received the news of his win on such a special day. The raffle has raised vital funds for the project that will see the lakes at Cockington restored to their former glory. There is still around £50,000 still to raise to complete the project, so there's a lot more work for us to do yet.
The Green Heart Appeal is raising money for restoration work that is desperately needed at Cockington Country Park. As well as donations of money, the donation of time is also being requested. From welcoming people to the new Visitor Centre to assisting with practical tasks such as tree planting, hedge laying and gardening, volunteers are key to the project and there will be opportunities throughout the duration of the project for people to learn new skills through training, events and workshops.
Members of the public and their dogs are invited to attend A Walk in the Park on Saturday 28th November at 9:30am. This free guided walk will start at Higher Lodge in Cockington and will be your chance to both enjoy a walk and find out more about the project.
If you would like to know how you can support the appeal, please come along, or contact Hannah Worthington on 01803 696247 or email greenheart@countryside-trust.org.uk.