Torquay has Jungle Journey Adventure Golf, Paignton has Pirates Bay Adventure Golf, and there's Crazy Golf at Goodrington. And, at one time, many hotels boasted a synthesis of concrete and felt which often featured a diminutive windmill.
These facilities were for the playing of miniature golf, which evolved into crazy golf, and we're all familiar with the geometric layout. These required from players non-traditional shots to overcome artificial obstacles such as tunnels, tubes, ramps, walls and moving obstacles.
Indeed, mini-golf is a seaside tradition.
The origin of the practice is said to be Scotland's St Andrews Ladies' Putting Club, the location of the first mini-golf course. It was designed in 1867 as a diversionary entertainment for the wives, sisters and daughters of the St Andrews club's members; it was believed that swinging a golf club past the shoulders was unsuitable for a lady. A piece of rough ground was then put aside, becoming later known as The Himalayas. It proved popular and other clubs around Britain copied the idea.
Geometrically-shaped mini-golf courses made of artificial materials then began to emerge during the early twentieth century.

I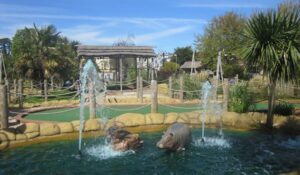 In 1907 a mini-golf course called Gofstacle, consisting of hoops, rings, a tunnel and a bridge, was patented by British army Colonel William Senhouse Clarke. The London Illustrated News explained: "It is played like golf croquet. Its popularity is undoubted."
The real home to the mini-golf craze, however, was America, though it did begin with a course built at the North Carolina home – called Thistle Dhu (This will do) – of the English shipping magnate James Wells Barber. In 1928 it was described as "the world's craziest, most scientific, and most aggravating golf course".
Soon there were courses across the United States – 50,000 courses were built in 1930 alone and there were 150 courses on New York rooftops. That summer, four million Americans played every night.
This was a very competitive market and innovation was rewarded. For instance, in Los Angeles the player had to putt through a cage where a trained bear would swipe at the passing balls.
It was immensely fashionable. Mary Pickford and the Vanderbildts constructed their own elaborate courses; while Douglas Fairbanks, Fay Wray and Fred Astaire were avid players.
Then, during the economic depression of the late 1930s, miniature golf became too expensive for many, and nearly all the mini-golf courses closed. In their place, came 'Rinky Dink' courses utilising obstacles made of whatever materials were lying around, such as tyres and pipes. Due to their popularity, surviving miniature golf course owners began to adopt these makeshift obstacles.
In Britain pitch-and-putt courses, with landscaped hillocks, bunkers, ponds and streams, were common. But these were merely a junior and limited replica of the senior game.
What was new was 'crazy' golf. The first crazy golf course was a fifteen-hole course established in Skegness in 1927, so establishing the long association between the increasingly eccentric pastime and the seaside.
By October 1930, there were 60 mini-golf courses of varying forms. Midget Golf Limited operated 16 courses across the UK and was involved in building the first course in London at Imperial House, Regent Street in September 1930. The first free miniature golf course opened atop Selfridges in the Hanging Gardens of London.
As in the United States, novelty, humour and excess, were great attractions. Taking on the example of the Los Angeles bear, a course in London used monkeys in a cage.
Yet, again following the American precedent, the game did lose some of its popularity. In 1932, the course on the shore end of Southend's Pier was removed to make way for a "dignified entrance."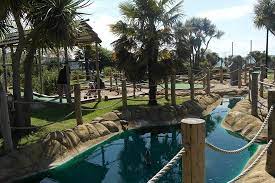 Despite some decline, the seaside remained the traditional home of an increasingly eccentric leisure form. Entrepreneurs had found a way to make money which didn't involve much initial expenditure or ongoing maintenance and which could occupy a small area of rented land. There were also technological advancements in malleable materials and artificial grass. No longer need rain stop play, or imagination be restricted.
During the 1930s mini-golf became an expected part of the modern resort experience. Local councils were often supportive as the amenities seldom caused trouble. And they were respectable with Edward, Prince of Wales, planning to build a course in the courtyard of St James' Palace.
Golf was an absolute necessity for any resort aspiring to a middle class clientele and the Bay was well aware of how its national rankings depended on a suitable offering. Consequently, golf courses were being developed along the coastline. Meanwhile, in parallel, crazy golf emerged as the less reputable twin of the long-established sport and social ritual.
It gave everyone the opportunity to try the expensive pastime of golfing. It was accessible to those unable or unwilling to take part in the 'serious' game. It was a frivolous diversion, an upstart novelty sport which could be played outdoors or even at night. For city dwellers, it was a faux-rural experience within a short walk from Torquay and Paignton town centres; and, to the concern of some, it provided the occasional raucous post-pub outing.
But crazy golf was the inversion of the sacred tradition of golf. Just as the seaside could offer a hall of mirrors to take an image and reflect back a humorous distortion of reality, crazy golf seized on the obsessions of middle class culture. Its players, excluded from participation, adopted the game and created their own rituals.
Crazy golf was an affordable experience in a liminal place by the sea, a resort setting which proclaimed the irrelevance of class, age, gender, and even ability. It subverted the sport of the elite in a leisure environment that had evolved to act as a temporary refuge from the challenges of real life.
Crazy golf offered a budget parody in a scaled-down wonderland. The carefully-designed rural freedoms and wide open spaces of golf were crammed into a confined space of tiny houses in primary colours.
It didn't matter if the player had no skill or aptitude. There were no complicated rules, no dress code, no segregation on the basis of gender or ethnicity, and no membership requirement. It was both a sport and an art form miniaturised for the masses.
Crazy golf was a truly democratic sport because, in its ideal incarnation, it was anti-competitive. Not winning was the whole point. Rather, there was real pleasure in losing in a community of family and friends. This fellowship of artificially vivid 'grass' and sometimes barely functional clubs was never intended to be just 'for the kids'.
Today there are over 700 crazy golf courses in the UK. Over time the reconfigured building materials and surplus cement were upgraded and, by the millennium, the fantasy had accelerated to introduce fibreglass African wildlife, benevolent buccaneers and the T-Rex. Regardless of such updating, and even though their makeshift roots and opportunism has largely been forgotten, they still express the charm, eccentricity and humour of their resort settings.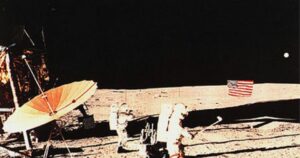 Though perhaps we're imposing too much on a simple pleasure. On the other hand, it is worth noting that one of the first things we did when we set foot on the moon was to play golf.