Torbay's Public health is supporting an initiative that urges South West outdoor workers to cover up to reduce risk of skin cancer.
The NHS Cover Up Mate campaign is urging men in the South West who spend a lot of time outdoors to protect themselves against the sun, to reduce the risk of skin cancer.
Skin cancer rates are higher than average and rising in the South West, and the campaign launched today targets male agricultural and construction workers, gardeners and sports-players because of their prolonged exposure to the sun and having been identified as not consistently using suncream.
The warning comes as new data suggests the danger is not confined to the height of summer months, but includes good weather in April and May which could have damaged winter-pale skin.
Public Health England (PHE) scientists believe this was caused by long periods of clear skies, with less rain and cloud to absorb UV.
The Met Office recorded that the mean daily temperature in the South West was 0.6°C higher than average in April and 1.5°C higher in May. April saw 15 per cent more sunshine hours and just 35 per cent of average rainfall. And May saw 4 per cent more sunshine and only 85 per cent of average rainfall.
This better weather overall may have prompted people to spend more time outside, thereby exposing themselves to the greater UV levels. This was also a time of year their skin would naturally have lost resistance to UV over winter, and they were less likely to cover up than in summer.
Executive Lead Health and Wellbeing and Deputy Mayor, Cllr Derek Mills: "This spring we had longer periods of sunshine and more people spending time outside. It all led to people being at far greater risk of sunburn at a time when their un-acclimatised skin was more susceptible. We are also currently experiencing hot weather so it is really important that people are aware of the dangers of exposing themselves to the sun."
NHS England South West Medical Director, Dr Caroline Gamlin, said: "You can't feel UV radiation, so it's very easy to get sunburnt in the UK, even when it's not particularly warm. But sunburn causes skin cancer so it's important people take more care, especially men and those who work outside. They need to use at least factor 15 sunscreen with good UV-A protection and apply it generously on all exposed skin."
Met Office spokeswoman Penny Tranter said: "UV levels in the UK are usually highest between April and October, particularly between 11am and 3pm. Clouds don't always stop UV rays, and unlike the sun's warmth, it's difficult to know when they may be harming you. Burning just once every two years can triple your risk of skin cancer. So it's important to keep up to date with our UV forecast so you know when it's essential to protect your skin and eyes from damage. You can do this by going into shade, wearing clothing and sunglasses which shield you from the sun, and using sunscreen on unprotected skin."
Cancer research statistics show that:
• A tan is a sign of skin damage – not health – and may offer only factor 3 protection.
• getting painful sunburn, just once every two years, can triple your risk of melanoma skin cancer;
• you're at higher risk of skin cancer if you have fair skin, moles or freckles, red or fair hair, or light-coloured eyes; and
• the highest risk months in the UK are May to September when UV rates are higher.
Official NHS advice on staying safe in the sun is:
• spend time in the shade if you can
• make sure you never burn
• cover up with suitable clothing and sunglasses
• use at least factor 15 sunscreen
The earlier skin cancer is caught, the easier it is to treat, so see your GP as soon as possible if any moles or freckles change size or shape.
The campaign is being run by NHS England, but is supported by all South West local authorities as well as a range of organisations connected to outdoor work including the Met Office, the Institution of Occupational Safety and Health (IOSH), the National Farmers Union, Mole Valley Farmers farming supply retailer, suncream manufacturer Debs and building supplies retailer Jewson.
Construction, agricultural and horticultural businesses are also being asked to sign up to a pledge to encourage their employees to protect against the sun.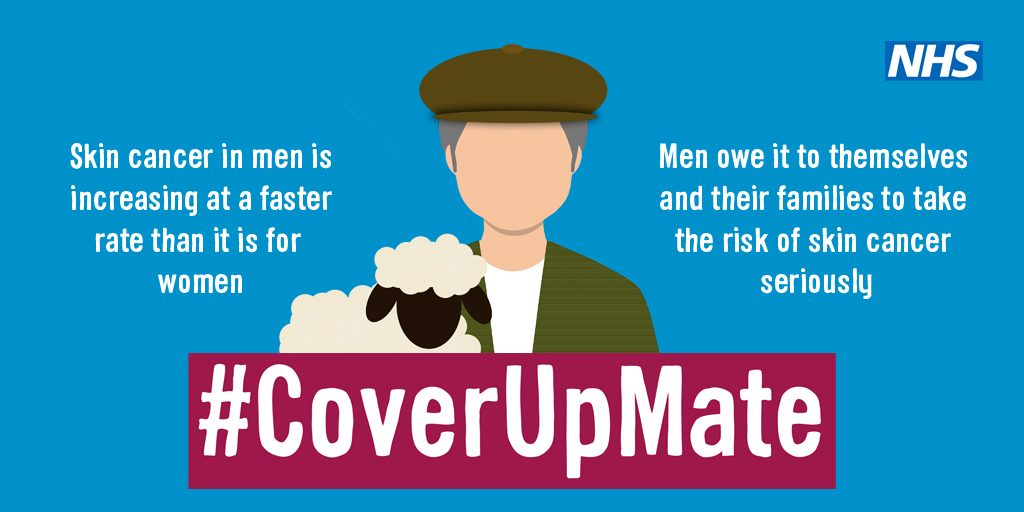 The Institution of Occupational Safety and Health's (IOSH) No Time to Lose campaign aims to raise awareness of occupational cancer, such as from solar radiation, and help businesses take action. Its pledge is a six-point action plan which includes assessing the risks and developing prevention strategies. IOSH has developed free practical resources such as videos, case studies, posters, available at www.notimetolose.org.uk/