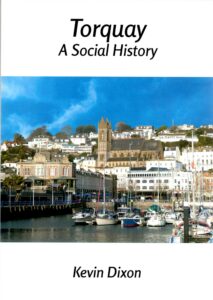 'Torquay: A Social History' by local author Kevin Dixon is a 10,000 year journey.


The book tells of how a collection of rural hamlets came together to become the richest town in England.

From living in fear of unfamiliar ships in Torbay, the town would become the centre of an Empire's elite at leisure.


This book is about the lives of locals and visitors, of smugglers and pirates, of suffragettes, occultists, radicals and rioters; the pubs and clubs, the triumphs and tragedies.
Here are ordinary folk, their communities, and the way they saw their world. Often forgotten, they made Torquay the place it was, and the town it is today.


The book is 186 pages and is available for £10 from:

Artizan Gallery, Lucius Street, Torquay, TQ2 5UW

Tuesday-Saturday, 11:00-17:00


Copies can also be ordered and posted to history-lovers beyond the Bay:

https://www.art-hub.co.uk/product-page/torquay-a-social-history-by-kevin-dixon