A fire in Market Street, Torquay this morning, Thursday 10 June is thought to have started in bins at the rear of property.
Six fire engines attended the incident at 'Boomtown Vapour', which also affected the flat above.
The road was closed whilst emergency services dealt with the incident.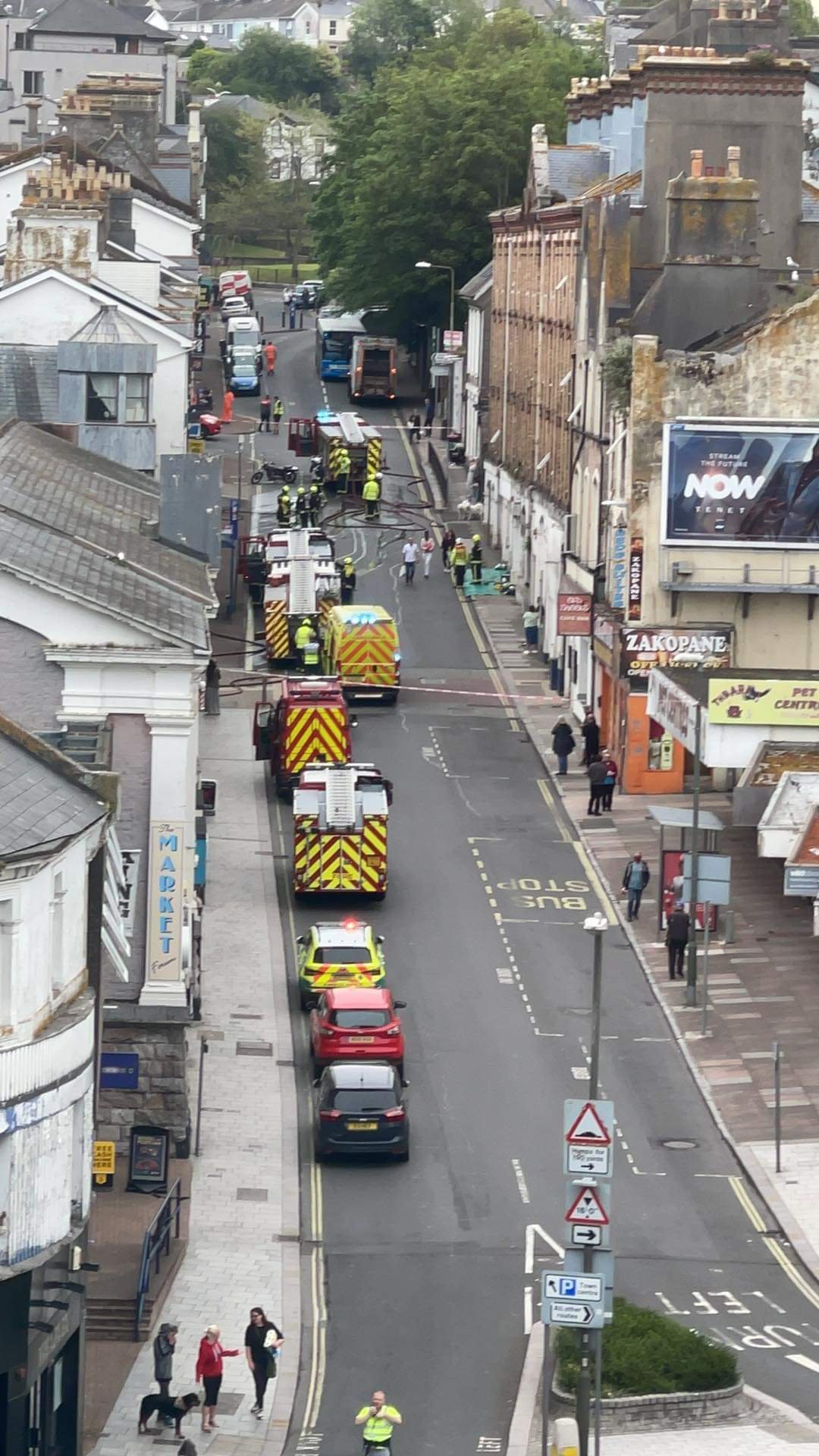 One person suffered from smoke inhalation and was treated by paramedics.
A spokesperson for Newton Abbot Fire Station said:
"Upon our arrival, crews from Newton were asked to enter the building from the rear wearing BA (Breathing Apparatus). The crew used a hose reel jet and a variety of tools including fire axes and ceiling hooks to extinguish the fire and cut away the burnt materials.
"A total of three teams ( six individual BA wearers ) were used to extinguish the fire. The fire was thought to have started in the bins at the rear of the property, which then spread into the Vape store and to the flat above.
"The first attending crew from Torquay quickly established that a person was still in the flat upon their arrival. They worked efficiently and promptly to lead the casualty away from the fire to a place of safety. The casualty was suffering from smoke inhalation and was left in the care of South Western Ambulance Service NHS Foundation Trust Paramedics.
"In total, six fire appliances as well a variety of support vehicles, flexi duty officers and the Chief fire officer of DSFRS attended this incident. As always the crews worked quickly to battle the fire and prevent the incident from escalating further."
A spokesperson for Boomtown Vapour posted on social media:
I" would like to say huge thankyou for everyones support today and very relieved that my doggies and myself are fine. Unfortunately the left hand tanning room was destroyed and smoke damage around the shop etc. Suspects have been been arrested and put into custody. Hopefully as from tomorrow customers will be served from the door and work will be carried out in the shop as quickly as possible and it will look nice and shiny as ever and will put my heart into it as always.
"Thanks to a huge customer base this will soon be history, the only way is up."