"You've never made love, until you've made love in a gondola", Scandal (1989)
Over the years some of Torquay's love scandals have found their way onto the big screen.
Perhaps the best known was the affair that led to the jailing of Oscar Wilde. The story is related in the 1997 movie 'Wilde', which featured national treasure Stephen Fry as Oscar and with Jude Law as his lover 'Bosie'.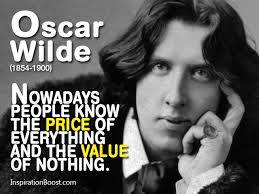 In 1892, Wilde, one of the most well-known personalities of his day, came to stay at Babbacombe Cliff for four weeks. Oscar borrowed the house from Lady Mount-Temple, his wife's distant cousin and a wealthy patron of the arts. It was at Babbacombe Cliff that Wilde completed his plays 'A Woman of No Importance', 'Salome' and 'Lady Windemere's Fan'. After the banning of Salome, Wilde wrote to Lord Alfred (Bosie) Douglas: "It is a lovely place, it only lacks you." Bosie then took the train down to Torquay. Bosie was, according to Wilde, "a gay, gilt and gracious lad. He lies like a hyacinth on the sofa, and I worship him."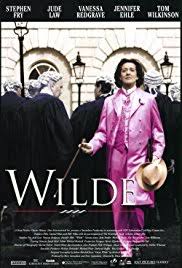 The men looked after Wilde's two sons, Cyril, seven, and six-year-old Vyvyan. As a game, Babbacombe Cliff was imagined as an institution "combining the advantages of a public school with those of a lunatic asylum". Wilde was the headmaster and drew up rules. Yet, these games led to a falling out between Wilde and Bosie. After "a revolting scene", an outraged Bosie left Babbacombe.
In April 1895, Bosie's father, the Marquis of Queensberry, made allegations of homosexuality against Wilde. Oscar sued for libel, but lost. During the trial, details of his private life were revealed and Wilde was arrested and sentenced to two years of hard labour in Reading Gaol. Upon his release, Oscar left for France, never to return. He died destitute in Paris at the age of 46. Here's Stephen Fry in Wilde:
Another screen portrayal of an unconventional relationship was the 1994 movie 'Tom & Viv' which was based on the life of the American poet Thomas Stearns (TS) Eliot and his wife, Vivienne. Willem Dafoe played Tom while Miranda Richardson was Viv.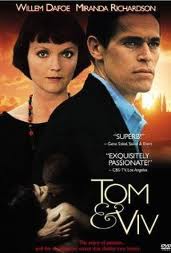 The couple (pictured below) met in Oxford in 1915, where Tom was studying philosophy, and were married three months later. However, Vivienne experienced long-term mental health problems and their marriage eventually foundered. It's been suggested that their troubled relationship inspired Tom to write 'The Waste Land', one of the 20th century's finest poems.
Tom and Viv's marriage was also unconventional as it may have included a 'love triangle' with the philosopher Bertrand Russell, some of which took place in the Bay. Historians have been arguing about this for decades, but the evidence does suggest a close relationship between the three.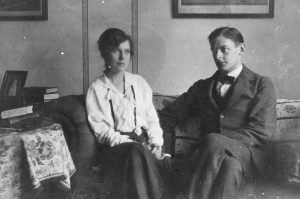 In 1915, to help the Eliots with living expenses, Bertrand loaned the couple £3,000. Bertrand also took an ailing Vivienne alone on a five-day holiday to the Torbay Hotel in Torquay. While in town, he received a letter of gratitude from Tom: "I am sure you have done everything possible and handled her in the very best way… better than I… I often wonder how things would have turned out but for you… I believe we shall owe her life to you, even." 
After he was called back to London, Bertrand paid Tom's train fare and hotel expenses so that Vivienne would have company: "I went first with her to Torquay, and Eliot replaced me after a few days," wrote Russell in his autobiography. While none of this is proof of a sexual relationship, they were certainly close friends. Bertrand also gave Vivienne gifts of cash, family jewellery, dancing lessons and expensive clothing, including silk underwear. The Eliots would return to Torquay on a winter holiday in 1916, and this time Vivienne's condition seemed to have improved. Tom wrote to Bertrand: "I have felt happier, these few days, than ever in my life."
Nevertheless, Vivienne continued to suffer from poor mental health and the couple separated in 1933. Vivienne refused to accept that they were no longer together, and she pursued Tom for years – Virginia Woolf called Vivienne "a bag of ferrets" that Tom wore around his neck. Vivienne was finally committed to an asylum in 1938 where she remained for 9 years until her death. Here's the trailer:
However, the greatest political scandal of them all featured a vicar's son from Torquay as a key protagonist. This was Stephen Ward who was played by John Hurt in the 1989 film 'Scandal'.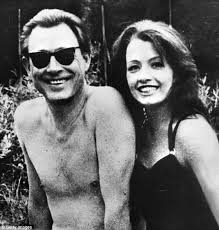 Stephen was the son of Arthur Evelyn Ward, Canon of Rochester Cathedral. In 1920 the family moved to Torquay when Stephen's father became Vicar of St. Matthias on Babbacombe Road. After studying in Missouri, Stephen returned to Torquay in 1940 to set-up as an osteopath. In 1944 he joined the Army and was posted to India and treated Gandhi. After the war, Stephen worked in London and had a stream of famous patients, including Winston Churchill and Ava Gardner. He was also a portrait painter and had the Duke of Edinburgh sit for him.
Yet, Stephen had a fondness for attractive young women and, on occasion, he arranged for his female friends to meet the rich and famous. Thus, he became one of the central figures in the 1963 Profumo affair.
In 1961 Stephen had introduced the married cabinet minister John Profumo (played by Ian McKellen in the movie) to a showgirl called Christine Keeler (Joanne Whalley) at a party held at Lord Astor's country home, Cliveden. The British public were fascinated by the affair which involved a cabinet minister, a showgirl and a Soviet naval attaché:
Following the scandal, Stephen was charged with living off 'immoral earnings'. Tragically, he committed suicide by overdosing on sleeping tablets on the last day of his trial.  There is another theory, however, that Stephen was murdered to protect the Establishment.
As a reminder of Stephen's role in Britain's greatest scandal, we have the film's theme song. 'Nothing has been proved' was performed by Dusty Springfield & the Pet Shop Boys and became a Top 20 hit in 1989: