A brand new exciting English Riviera Cats Trail will be launched on Saturday 28th May by Torquay Museum. You are challenged to find the 20 ceramic cats displayed around Torbay, each with a unique theme and beautifully decorated by local artists and schools. A prize of lots of cat-related goodies for the overall winner is up for grabs.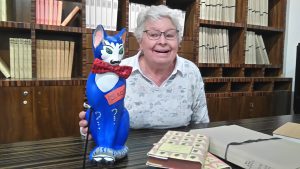 Simply pick up an English Riviera Cats Trail sheet from Torquay Museum, or download it from the Museum's website, find the cats, each with a mystery letter, and then use the letters to reveal the hidden cat-related phrase. Completed entry forms can be handed into Torquay Museum, and the lucky winner will be notified after the Cats Trail finishes on 4th September.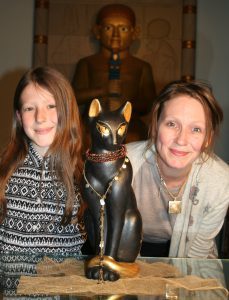 "We are absolutely delighted by the response of local primary schools and artists who have come together to make this trail possible by beautifully decorating the ceramic cats, which form the centre pieces of the trail," said Heather Adams and Kate Richards of Torquay Museum's Education Team. "The idea was to create a trail to celebrate the Museum's popular Claws: A Human History of Catstemporary exhibition, and we wanted to get our local community involved."
"Special thanks goes to Cockington, Furzeham, Sacred Heart, Roselands and St Marychurch primary schools, whose pupils threw themselves into their painting with gusto," continued Heather. "The quality of the painted cats is amazing, and the imagination of the artists is breathtaking, There's One-Eyed Jack the Pirate Cat with a wonderful eye patch, a rather natty Poirot the Mystery Cat complete with moustache and bow tie, and a scary looking Scimitar the Geopark Cat, to name but a few."
The cats will be displayed in 18 easily accessible locations around Torbay, ranging from the Berry Head Guardhouse café in Brixham to libraries in Paignton, Torquay, Churston and Brixham. Princess Theatre will play host to the wonderfully flamboyant Mr Mistoffelees Cat, and Glamourpuss Cat can be found strutting his stuff in Hoopers Department Store. The final three cats can be found at Torquay Museum itself.
The English Riviera Cats Trail will be launched on Saturday 28th May with a series of family-friendly cat-related art activities at Torquay Museum, from face painting to mask making and much more. See the Museum's website for more details.
The Cats Trail has been inspired by Torquay Museum's exhibition, Claws! The Human History of Cats, which tells the extraordinary story of the relationship between humans and cats, from distant prehistory until the present day. Spanning 40 million years, it features the enormous awe-inspiring skulls of extinct sabre-tooth cats and cave lions, an Egyptian cat mummy, wildcats, stories of cats throughout human history, man-eaters, dozens of fascinating cat-related artefacts, and much more.
Pick up an English Riviera Cats Trail sheet from Torquay Museum, or download it from the Museum's website www.torquaymuseum.org