Torquay's Pop Up Shop have welcomed the award winning Lockabox to their shop in Union Street.
Lockabox won the business of the year award from the local newspaper. Peter Morris also scooped the Young Entrepreneur of the year award at this year's South Devon Business Excellence awards,  his Lockabox team have joined TDA's retail regeneration project Pop Up the High Street as their newest retailer.
Lockabox is a hygienic, secure, lockable storage for food in shared fridges. It can be used to keep medicines safe and lock personal, private or household items away.
The brain child behind Lockabox, Peter Morris, said: "Talking face-to-face with customers is a great opportunity to get direct feedback and test our marketing ideas with immediate effect. It's really informative and sales are going well, so we must be doing something right! Thank you TDA for supporting us."
Lockabox was created in 2012 by then student Peter as a way to stop fellow students eating his food from the communal fridge. Lockabox is now proudly manufactured locally in Devon.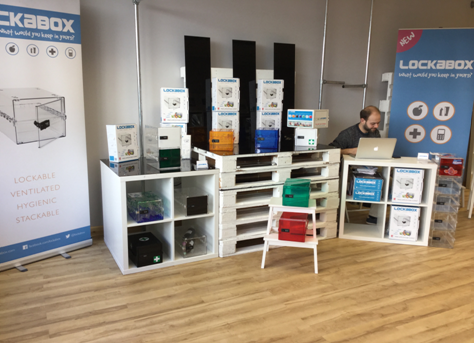 To date, they have celebrated two award wins at the Business Excellence awards, enjoyed a successful exhibition at the NEC Spring Fair in Birmingham and conquered retail giant John Lewis, who is now an official stockist of Lockabox.
Liz Edwards, Pop up the High Street project lead, said: "Pop up the High Street showcases the latest in local home or online retail businesses by offering an affordable high street space. Lockabox have had a very successful 2016 so far and we are delighted that they decided to showcase and sell their products in the Torquay Pop Up Shop."
Peter is receiving advice from TDA's business advisors and will be attending the South Devon Export Network to understand the potential of his product in international markets and gain valuable exporting support.
Lockabox can be found in Pop Up the High Street, Union Street, Torquay, from 18 April until 7 May.
For more information about becoming a retailer in Pop Up the High Street or to apply visit www.popupthehighstreet.org
For more information about Lockabox visit www.lockabox.com
Ends