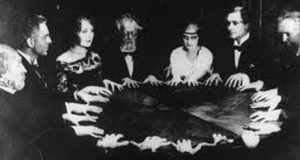 Here at WASD we've mentioned that, during the late nineteenth and early twentieth centuries, Torquay had a reputation as being a centre of the Occult – the search for the hidden and unknown. We were particularly open to Spiritualism, the belief that the living could communicate with the dead. One usual way of doing this was through a séance organised by a Medium. So what actually happened during a séance?
Fortunately, due to the experiences of St Marychurch resident Annie Hall Cudlip, we have a good description. Annie (1838–1918), known by her pen name Mrs Pender Cudlip, was a novelist and short story writer. She was the editor of 'Ours: A Holiday Quarterly' and a regular contributor to magazines in both Britain and the United States between 1876 and 1884.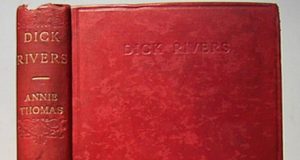 She was one of the most prolific writers of romantic fiction during the Victorian era and published over 100 novels and short stories. Among her best known works were 'Theo Leigh' (1865), 'A Passion in Tatters' (1872), 'He Cometh Not', 'She Said '(1873) and 'Allerton Towers' (1882). Many of her earliest novels were considered highly controversial at the time. They dealt with subjects such as the sexuality of young girls and illegitimate pregnancy. Annie was also involved in animal rights groups and wrote about animal cruelty.
In February 1873 Annie joined her close friend Florence Marryat in a visit to a London séance. Florence later wrote down her experiences in a highly successful non-fiction book, 'There Is No Death' (1891) in which she described what they saw.
An acquaintance offered to make the arrangements for the two inquisitive friends: "Then the time has arrived for you to investigate Spiritualism, for I can introduce you to a medium who will show you the faces of the dead."
"Annie Thomas (Mrs Pender Cudlip,) the novelist, who is an intimate friend of mine, was staying with me at the time and became as eager as I was to investigate the phenomena. We took the address Mr Dunphy gave us of Mrs Holmes, the American medium, then visiting London… but we refused his introduction, preferring to go incognito.
"Accordingly, the next evening, when she held a public séance, we presented ourselves at Mrs Holmes' door; and having first removed our wedding-rings, and tried to look as virginal as possible, sent up our names as Miss Taylor and Miss Turner.
"Mrs Holmes did not receive us very graciously on the present occasion. We were strangers to her – probably sceptics, and she eyed us rather coldly… Annie Thomas had to return to her home in Torquay on the following day, and so we begged the medium to try at least to show us something, as we were very curious on the subject…". The two ladies then sat for "Spirit Faces".
"There were two small rooms connected by folding doors. Annie Thomas and I were asked to go into the back room; to lock the door communicating with the landings, and secure it with our own seal, stamped upon a piece of tape stretched across the opening; to examine the window and bar the shutter inside; to search the room thoroughly; in fact, to see that no one was concealed in it – and we did all this as a matter of business.
"When we had satisfied ourselves that no one could enter from the back, Mr and Mrs Holmes, Annie Thomas, and I were seated on four chairs in the front room, arranged in a row before the folding doors, which were opened, and a square of black calico fastened across the aperture from one wall to the other. In this piece of calico was cut a square hole about the size of an ordinary window, at which we were told the spirit faces (if any) would appear.
"Mr and Mrs Holmes talked to us of their various experiences, until – we were almost tired of waiting – something white and indistinct like a cloud of tobacco smoke, or a bundle of gossamer, appeared and disappeared again." That's Florence pictured below.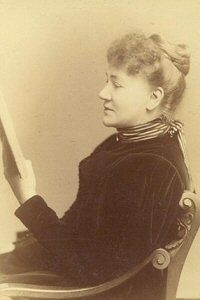 "'They are coming! I am glad!', said Mrs Holmes. 'I didn't think we should get anything to-night…' My friend and I were immediately on the tiptoe of expectation. The white mass advanced and retreated several times, and finally settled before the aperture and opened in the middle, when a female face was distinctly to be seen above the black calico.
"What was our amazement to recognize the features of Mrs Thomas, Annie Thomas' mother! Poor Annie was very much affected, and talked to her mother in the most incoherent manner. The spirit did not appear able to answer in words, but she bowed her head or shook it, according as she wished to say 'yes' or 'no'. I could not help feeling awed at the appearance of the dear old lady, but the only thing that puzzled me was the cap she wore, which was made of white net, quilled closely round her face, and unlike any I had ever seen her wear in life. I whispered this to Annie, and she replied at once: 'It is the cap she was buried in…'
"It was some time before Annie could be persuaded to let her mother go, but the next face that presented itself astonished her quite as much, for she recognized it as that of Captain Gordon, a gentleman whom she had known intimately and for a length of time… he leaned forward, and I saw a dark stain, which looked like a clot of blood, on his fair hair, on the left side of the forehead.
"'Annie! What did Captain Gordon die of?' I asked. 'He fell from a railway carriage,' she replied, 'and struck his head upon the line.' I then pointed out to her the blood upon his hair…
"Several other faces appeared, which we could not recognize… The last face we saw that night was that of a little girl, and only her eyes and nose were visible, the rest of her head and face being enveloped in some white flimsy material like muslin. (After some prompting, Florence realised that…) This was 'Florence' – my dear lost child (as I then called her), who had left me as a little infant of ten days old, and whom I could not at first recognize as a young girl of ten years…
"Thus ended the first séance at which I ever assisted, and it made a powerful impression upon my mind. Mrs Holmes, in bidding us good-night, said: 'You two ladies must be very powerful mediums. I never held so successful a séance with strangers in my life before'…
"This was the séance that made me a student of the psychological phenomena, which the men of the nineteenth century term Spiritualism."
And so began Florence and Annie's life-long belief in Spiritualism.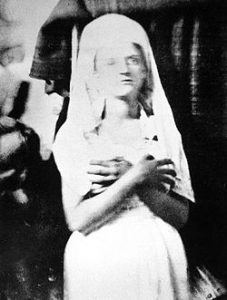 There's a bit more to this story, however. The seance that Annie and Florence visited was organised by Mrs Holmes, a very well-known American medium, and a later incident is worth noting. Spiritualism had become immensely popular in the wake of the American Civil War, when so many wanted to communicate with those slain. Mr. and Mrs. Nelson Holmes were from Philadelphia and used a spirit guide called Katie King. The supposedly long-dead Katie (pictured above) materialized at their séances, initially as a disembodied face and eventually in full physical form – or so attendees believed. Katie walked about, talked, allowed herself to be weighed and measured, and even held a baby. For eight months in 1874 Katie captivated Philadelphia society, including Vice President Henry Wilson who wanted to speak with the apparition. It's probably worth pointing out that séances were held with the medium secluded in the dark, because Spiritualists believe that materialization requires very dim surroundings to succeed.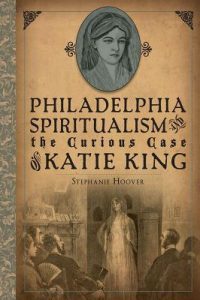 Yet, when a believer-turned-sceptic investigated Katie King, the spirit was revealed to be a hoax. During a séance the sceptic seized the spirit's hand and waist, finding Katie surprisingly human. A woman named Eliza White then came forward and claimed to have masqueraded as Katie. White's face matched that of 'Katie King' in photographs sold by the Holmeses and their agents. Eliza White had first extorted money from the Holmeses, and then sold the story to the press. Spiritualist and Torquay visitor Arthur Conan Doyle (pictured below) later wrote that this 'exposure' did more damage to Spiritualism than any other incident.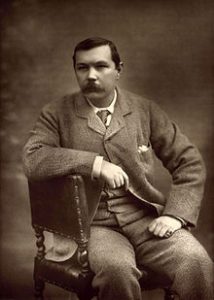 So that's the story of Annie and Florence and the seance. But, does this incident of fraud invalidate all other claims that we can communicate with the dead? You decide…
You can join us on our social media pages, follow us on Facebook or Twitter and keep up to date with whats going on in South Devon.
Got a news story, blog or press release that you'd like to share or want to advertise with us? Contact us
Click here to return to the homepage