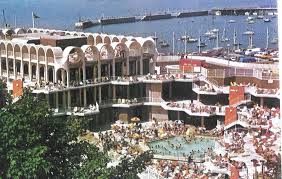 We're all familiar with Living Coasts, the marine animal exhibit on Beacon Quay, known affectionately as the Hair Net. Living Coasts occupies a site that has had a number of uses since it first became a working ship yard back in 1680. Indeed, you can often guess a local resident's age by which incarnation of the site they most fondly remember – the Marine Spa, Aqualand, Coral Island or Living Coasts.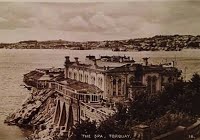 First came the Marine Spa, built in 1857 as the Bath Saloons on the promontory overlooking Beacon Cove. This was a monument of grand architecture which included a ballroom, concert hall, sunlit conservatory and private bathing facilities. Underneath, there was a large public swimming baths open to the sea. Visitors flocked to hear readings by authors such as Charles Dickens or for exotic treatments such as the Four Cell Schnee Bath and the cure-all Dartmoor Peat Pack Treatment.
Times move on, however, and the Spa gradually lost its popularity. Contributing to its final demise was a tragedy which took place on July 13 1971. Three boys from St Vincent's Children's Home – where Mount Stuart Hospital is now – were playing a game to see who could remain the longest at the bottom of the swimming pool. At 8pm the attendant wanted to close and asked all those remaining to dress and leave. It was then discovered that one of the boys, John Moran, was missing and his clothes were found in a changing cubicle. The Torbay Fire Brigade were called and divers realised that John must be in the pool's outlet pipe. The pool was accordingly emptied of 90,000 gallons of water and, using torches, John's body could be seen in the pipe. It was too late – a rope couldn't be attached and efforts to reach him failed. Work then went on throughout the night using pneumatic drills to reach the pipe and John's body was eventually recovered. He rests in Torquay Cemetery. This wasn't the first accident and near-miss associated with the Baths, but it was the last. The demolition of the Marine Spa began on September 27 1971.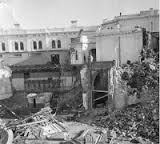 The site was eventually redeveloped by Joe Coral, of the bookmakers fame. Opening in 1977, this modern and exciting development was the Beacon Leisure & Entertainment Centre, or Coral Island, leaving only the sun terraces to remind us of the old Spa. Visitors were entertained by bands such as the Syd Farnham Trio, The Rivieras and Fusion in the Showbar. For a few short years, Coral Island was the home of Spartacus Disco and later Lasers, "The No.1 Disco in Torbay".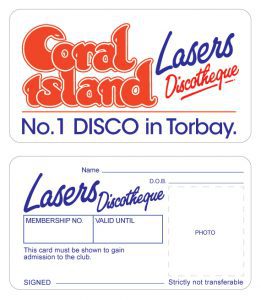 It's worth remembering the enthusiasm when the complex first opened. From a review of 1977: "Coral Island has something to suit all tastes. Inside one can relax in fascinating surroundings, all is luxurious, softly carpeted, tastefully furnished with wide seating, not pushed together for room space. The young ones have their place for entertainment and certainly the bingo will not take up so much precedence. Outside the prospects looking towards the gleaming little swimming pool with around it the beautiful panoramic loveliness of Torbay, this looked to me like a part of Capri."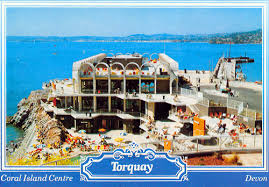 Yet Coral Island struggled to fulfil its promise as an all-year venue and began to shut up shop in the winter. Despite efforts to attract customers with a disco, slot machines, wrestling, bingo, bars and restaurants, the building closed altogether in September 1988. For more than a decade the derelict building was an embarrassment to locals as its rotting carcass loomed over the harbour. These terrific photos of a decaying Coral Island are courtesy of Duncan Joint – all rights reserved by Flickr w126uk.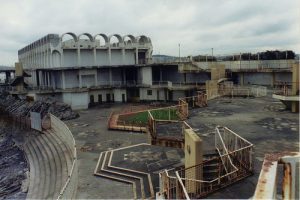 Coral Island was a white elephant that was emblematic of Torquay's decline as a tourist resort. It couldn't have been in a more prominent location and symbolised everything that was wrong with Britain's coastal communities. For example, in the Telegraph of August 2000 we find a sad commentary on our town, "It is not as if the average English holidaymaker wouldn't welcome a bit of care and attention. Making my way along the barrack-like prom, I passed a mournful-looking man who was sitting outside The Galley sandwich bar, in a kind of concrete corridor overlooking the harbour, staring at his bacon and brie baguette (the baguette is the new cheese roll in Torquay). 'It's these 'daily specials' – they never seem to change', he was saying to his wife. Something of a metaphor, I felt. The reason that he didn't hurl it into the sea and demand something truly special has, I suppose, much to do with our English seaside holiday tradition: take what you are given and shut up. The attitude still prevails. Buying postcards in Harbour Lights, one of the hundreds of gift and beachware shops, I asked the owner if he sold stamps. He fairly jumped for joy as he said proudly, 'No, I don't.' I hastened on.
"More architectural murders have been committed here than in all of Agatha Christie's novels. The splendid Victorian Marine Pavilion (sic), once right on the seawall, was destroyed in the 1960s to make way for another concrete bunker, called Coral Island, which for the past few years has been a boarded up, graffiti-covered eyesore."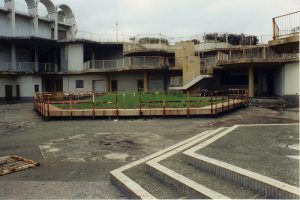 For more than a decade there were plans to turn Coral Island into a bar, a health spa or a fish restaurant. There was even a proposal for an international Christian conference centre – which presumably would have altered the very nature of what Torquay harbourside was about… None of these proposals came to fruition and Coral Island was eventually demolished in 1997.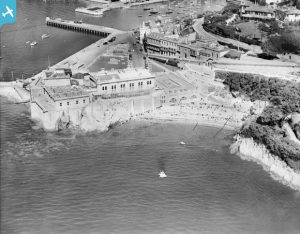 Of course, the lessons of Coral Island were well learnt. Certainly today we wouldn't find any of our prominent or historical buildings left to rot for years while developers and the Council figured out what to do (!)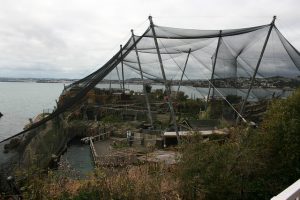 The new building that was to become Living Coasts was first proposed in early 1999 in response to a call from Torbay Council for submissions from interested parties. The successful project, developed by Kay Elliott architects, featured an exhibit to house marine birds, rather than fish. This odd decision was supposedly due to the need to avoid duplicating the exhibits at Plymouth's National Marine Aquarium – 34 miles away – and despite the popularity of the displaced Aqualand.
It's been said that – by excluding most of the sea species that really interest people, such as sharks – Living Coasts limited its attractiveness. As one local noted at the time, "Once you've seen one penguin, you've seen them all", while another commented, "Most birds look the same. If I wanted to look at a seagull there's plenty around you don't have to pay to see".
The project was subsequently taken on by Paignton Zoo Environmental Park and named Living Coasts. Not much now remains of the old Spa but you can still see the stone arches of the public baths which have been incorporated into the shop.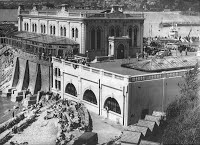 To close, here's Coral Island's resident band Fusion (1984-1987) performing in 1985. The band members were Pete Leonard (keys/voc) Graham Keeling (guitar/voc) Geoff Brown (Drums/voc) and Paula Kelly (vocals):