In 1956 the people of Hungary rose in revolt against their government and its Soviet-imposed policies.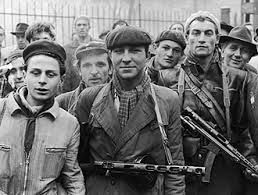 Thousands joined militias and fought the State Security Police and Soviet troops. However, the revolution was crushed by a large invading Soviet force. Over 2,500 Hungarians and 700 Soviet troops were killed in the conflict. Mass arrests and denunciations continued for months and by January 1957 a new Soviet-installed government had suppressed all public opposition.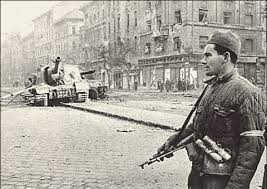 In the wake of the failed revolution, 20,000 Hungarian refugees came to Britain (pictured below). Many recalled how they were welcomed as heroes, with the British people competing to entertain them for Christmas.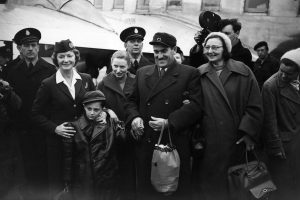 Hungarian refugees included: Sir George Rada, who went on to head the British Medical Research Council; Joe Bugner, who arrived as a boy, and became the British heavyweight champion and fought Muhammad Ali for the world title; and the poet George Szirtes who won the TS Eliot prize.
A number of refugees came to Torquay, many being first housed in a house called Ockenden in St Lukes Road, which has now been demolished.
One well-known local Hungarian was Alex Nadji who operated the cafe off Lower Union Street and then opened a cafe in Torquay Railway Station.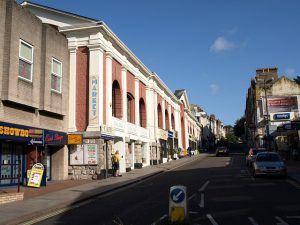 Another refugee was Alex Novak who opened the Budapest Grill in Market Street. Along with his fellow countrymen, Alex formed the Torquay Hungarians football club and he also played for the Torquay Hotels team in the local Wednesday League. A former toolmaker, Alex turned down the chance to play for Wolverhampton Wanderers.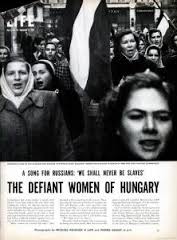 In 2002 the Telegraph interviewed Alex. In the interview he claimed that he was the inspiration behind Manuel, Fawlty Towers' Spanish waiter. It's probably worth noting, however, that John Cleese has stated that there was no single role model for Manuel.
Nevertheless, Alex recalled that he was working as a restaurant manager in St Marychurch's Links Hotel when he encountered John Cleese and the rest of the Monty Python team while they were filming in the Bay.
Alex was still struggling with a new language, and his broken English was picked up by Cleese and incorporated into the character of Manuel. Referring to Manuel's change of nationality, Andrew Sachs, who played the role in the television series, said: "He could have been from Budapest and I could have played a Hungarian waiter, but Spanish did seem to work."
For more local news and info, go to our home page or you can join us over on Facebook or Twitter.