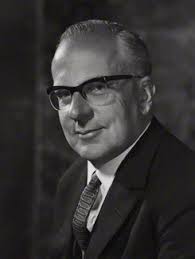 From 1955 to 1987 Torquay's MP was the Conservative Sir Frederic Mackarness Bennett. Born in 1918 Sir Frederic was educated at Westminster School and in 1939 enlisted in the Middlesex Yeomanry. He became an officer in the Royal Artillery in 1940 and was commended for gallantry a year later. Being called to the English Bar in 1946 he subsequently served as an Advocate in the High Court of Southern Rhodesia from March 1947. In 1947 Sir Frederic made the first overland car journey from South Africa to England.
From 1947 to 1949 he was an Official Observer in the Greek Civil War. From 1950 to 1952 Sir Frederic was the diplomatic correspondent for the Birmingham Post newspaper and then a director in various financial and industrial institutions in the United Kingdom and overseas, as well as an underwriter at Lloyd's. At the 1945 general election, Sir Frederic was an unsuccessful candidate in the Burslem constituency, and again failed to be elected in 1950 when he stood in Ladywood. The following year he was finally successful as MP for Reading North though, when the constituencies of Reading South and Reading North were combined in 1955, he lost the seat to the left-wing Ian Mikardo. A few months later, however, Torquay's MP Charles Williams died after more than 30 years as the town's MP. Sir Frederic replaced him with a majority of over 10,000 votes. He represented Torquay until the constituency was abolished in the February 1974 general election and then as the MP for the new Torbay constituency, holding the seat until he retired at the 1987 general election.
Sir Frederic had a privileged life. His mother Marguerite's maiden name was Kleinwort, as in the merchant bankers Kleinwort Sons (later Kleinwort Benson). This provided him with a core of lucrative directorships which supported a lifestyle that included a Rolls-Royce and four homes, one of them in the Cayman Islands. His South Devon residence was the 15th-century Kingswear Castle on the River Dart. From 1953–1955 Sir Frederic was Parliamentary Private Secretary to Reginald Maudling and he then held a range of governmental posts. He was a member of the Primrose League – an organisation for spreading Conservative principles – and of the Monday Club. He attended 14 of the yearly Bilderberg Group conferences and was a member of the group's Steering Committee.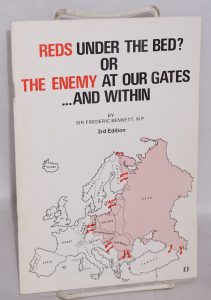 During the Cold War Sir Frederic became increasingly hostile to Communism and aligned himself with all of Moscow's enemies, seemingly regardless these states' human rights records or lack of commitment to democracy. He supported all Muslim states and defended Turkey's 1974 invasion of Cyprus. After Mao criticised the Soviet leadership, he became pro-Chinese and supported Beijing's 1979 invasion of Vietnam. His staunch anti-Communism led him to take up a leadership position in the European Freedom Campaign, an anti-Communist group established in 1988, which consisted mainly of representatives from countries behind the Iron Curtain.
This fear of Socialism led Sir Frederic in 1976 to assist George Kennedy Young in creating the private army 'Unison'. He saw organisations such as CND to be fronts funded with KGB money serving the aims of the Soviet Union. Condemning these pressure groups as "ideological fifth columns" weakening the resolve of the West and preparing for Communist take-overs, in 1979 he wrote the pamphlet 'Reds under the Bed, or the Enemy at the Gate'.
In 1976 he voted for the 11th time against the renewal of sanctions against the Smith regime in Southern Rhodesia. He remarked that almost every African country which had achieved democracy had held a single election and had then relapsed into authoritarian rule. In 1982, he led resistance to William Whitelaw's attempt to give women equality in bringing in spouses from the Commonwealth. His most lasting achievement, on the other hand, is probably the Channel Tunnel. As secretary of the first Commons committee backing the project, he repeatedly urged financial support for it as early as 1957.
Bizarrely, although Sir Frederic served for 36 years as a Conservative MP, for the general election in 1997 he announced that it was "time for a change" and that he would be voting for New Labour since they were "no longer Marxist socialists".
After his retirement he had a home in St David's, Bermuda, but his principal residence was his father's estate in Wales. Sir Frederic died in 2002.