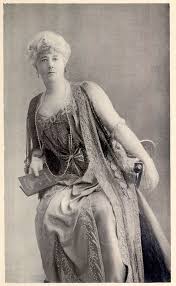 We've mentioned Torquay resident Violet Tweedale on WASD before. It was Violet's investigations of Torquay's Castel-a-Mare, documented in her book 'Ghosts I have Seen' (1920), that gave the Warberries house the reputation of being the most haunted in England. Violet (pictured above) was also involved in one of the most famous court cases of the early twentieth century – the focus being whether people could really communicate with the dead.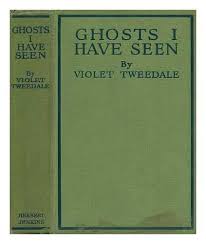 Violet (1862-1936) was born in Edinburgh and moved to London in 1889 where she wrote her first novel, And They Too. There she became involved in humanitarian 'rescue work' in the East End. While in London, she moved in the best social circles and was a friend of the poet Robert Browning. She was an author and poet but what brings her into this case is her spiritualist beliefs. Claiming to be psychic from a young age, she had become involved in Spiritualism and Theosophy, and was a close associate of Helena Blavatsky. Violet was also a member of the magical Hermetic Order of the Golden Dawn, one of the largest single influences on 20th century occultism. Violet lived in the Warberrries and was a prolific writer and wrote over 30 books on spiritual subjects, such as 'The Cosmic Christ' (1930), and on her own personal psychic experiences.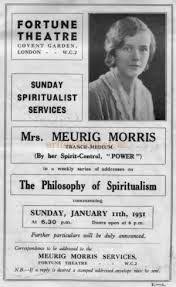 As a specialist on all things supernatural, Violet was called as an expert witness in a famous legal case when a well-known medium sued the Daily Mail for libel. This was Mrs Meurig Morris who had begun her long career contacting the dead at a séance in Newton Abbot in 1922. In early 1931, Meurig Morris held a series of Sunday evening services at London's Fortune Theatre. These trance addresses were supposedly delivered through her 'spirit control' known as 'Power'. Under the control of 'Power', the medium's soprano voice could change to "a ringing baritone, her mannerisms becoming masculine and priestly".
The Daily Mail, however, wasn't convinced and in 1932 wrote an article titled 'Trance Medium Found Out'. In response to this slur, Meurig Morris promptly sued for libel. The newspaper pleaded justification and fair comment on a matter of public interest. The case was subsequently heard before Mr Justice McCardie (pictured below) and lasted eleven days in April 1932.
The judge first asked the jury to consider whether Mrs. Morris could in fact convey messages from the dead; whether she was a genuine medium; and whether she honestly believed that she could do what she claimed.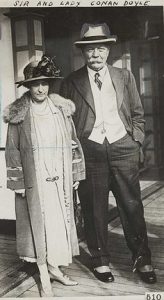 In her support Mrs Meurig Morris enlisted Violet along with Lady Conan Doyle, wife of the Sherlock Holmes author (pictured above), a regular visitor to Torquay and another committed spiritualist. They were there to attest Mrs Meurig Morris's ability to channel voices from the beyond.
The proceedings caused something of a sensation. In one incident during the judge's summing-up, he pointed at Meurig Morris. She then slowly stood up and, apparently in a trance, said in a deep voice supposedly that of her spirit guide 'Power', "Hearken to my voice, Brother Judge." Not prepared to be instructed in his duties by a voice from beyond the grave, Mr Justice McCardie ordered her to be removed from the court. Yet, when she was approached, the same voice said: "Do not touch her till I have left the body." Mrs. Meurig Morris was carried to an anteroom where she remained unconscious for two hours. When the judge resumed, he commented: "I hope I have not upset the feelings of anyone unnecessarily, but as a judge I care not for all the incarnate or discarnate spirits in the world, though there may be ten thousand million discarnate spirits around us."
At the end of the trial the jury found that no allegations of fraud or dishonesty against Meurig Morris were proved. On the other hand, the Mail wasn't liable for damages as they had published in the public interest. Mrs Meurig Morris appealed but this was dismissed. The case was taken to the House of Lords, where the appeal was again dismissed.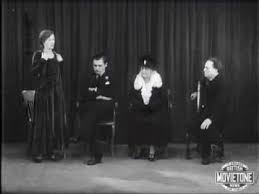 Here's Mrs Meurig Morris in action, channelling her spirit control 'Power'. The filming took place in the studios of the British Movietone Company where a talking film was made of 'Power's' ability to communicate from the afterlife. Seventy people saw the microphones high in the air, held up by new half-inch ropes. The rope suddenly snapped – it was found cut as with a sharp knife – and the crash startled those present. Close to Mrs Meurig's face, the microphone swept across and went swaying to and fro. A foreman rushed up and dragged the rope aside to keep it out of sight of the camera. The cameraman never stopped filming, neither did Meurig falter. Was the falling microphone just an accident; a set up; or a genuine example of supernatural interference? You decide…