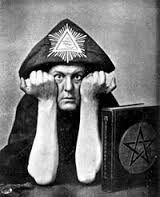 "Mr Crowley, what went wrong in your head?
Oh, Mr. Crowley, did you talk to the dead?
Your life style to me seemed so tragic
With the thrill of it all
You fooled all the people with magic
You waited on Satan's call"
 Ozzy Osborne
We've said before that Torquay has had some weird residents. Indeed, it may not be a coincidence that the most famous occult figure of the nineteenth century – Lord Lytton – and the most extreme of the twentieth century both decided to live in our town.
The second of these influential and scandalous characters is Aleister Crowley. Born in 1875 Aleister was an influential mystic and magician, responsible for founding the religious philosophy of Thelema. Taking the names Frater Perdurabo and the Great Beast, Aleister is known today for his mostly self-published magical writings and is now recognised as one of the most influential occultists of all time.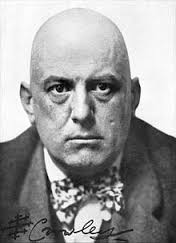 Seeing himself "in revolt against the moral and religious values" of his time, Crowley proclaimed that he was a bisexual drug "fiend". He took the motto "Do what thou wilt shall be the whole of the Law". However, this dedication to excess left a series of deeply damaged women and men its wake. As a consequence, he gained widespread notoriety during his lifetime, and was denounced in the Edwardian popular press as "the wickedest man in the world."

Aleister remains an influential figure, and a BBC poll in 2002 described him as being the seventy-third greatest Briton of all time. References to him can be found in the works of numerous writers and filmmakers. His reputation particularly appeals to musicians. Jim Morrison and Ozzy Osbourne have written songs about Crowley. Here's Ozzy with Mr Crowley:
Led Zeppelin's guitarist Jimmy Page took his interest in the occult to the extent of buying Crowley's Scottish mansion, Boleskine House, and he owned a large collection of Crowley memorabilia.
That's Aleister in the back row on the famous cover of the Beatles' 1967 album, 'Sgt. Pepper's Lonely Hearts Club Band' – predictably, the inclusion of the world's most notorious magician led some American Christian evangelicals to condemn the Beatles as Satanists.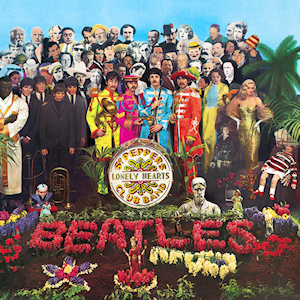 Aleister's occult career began in Torquay where, in 1891, he lost his virginity at the age of 15 to a young actress. He later wrote: "The nightmare world of Christianity vanished at the dawn. I fell in with a girl of the theatre in the first 10 days at Torquay, and at that touch of human love the detestable mysteries of sex were transformed into joy and beauty. The obsession of sin fell from my shoulders into the sea of oblivion. I had been almost overwhelmed by the appalling responsibility of ensuring my own damnation and helping others to escape from Jesus. I found that the world was, after all, full of delightful damned souls."
In 1917 Crowley referred to this encounter in a short novel 'Not the Life of Sir Roger Bloxham': "'Twas at Torquay in Devon, land of stream and cream…, merry maids and proper men, tall fellows and bold… and of cider stronger and sweeter than your Norman can make for all his cunning; and this girl was a play-actress, rosy as the apples, and white as the cream, and soft as the air, and high-spirited as the folk, of that enchanted dukedom…"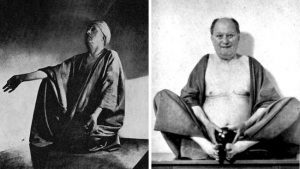 Yet, at the time, when his horrified mother learned of his loss of innocence she condemned her teenage son as the 'Beast'. This was the title Crowley was to adopt as he went on to provoke and outrage a staid Christian society. Later in his life, he returned to Torquay, staying first at the Grand and then in a house in Barton. Hopefully, by this time, he had given up trying to raise demons!
This is where Crowley's story gets even stranger. While he was living in Torquay during the War, Crowley was reputedly visited by British Intelligence. They wanted his advice on how to deal with Hitler's Deputy Rudolf Hess. On the eve of war with the Soviet Union, Hess had flown solo to Scotland in an attempt to negotiate peace with Britain, but instead was arrested. British Intelligence knew that Hess was interested in the occult and during the Nazi's initial interrogation, they tracked Crowley down to his home in Great Hill Road in order to ask his advice. The elderly man who called himself 'the Great Beast 666' was living alone and writing patriotic poetry to encourage the war effort. Crowley had written to the director of Naval Intelligence, Ian Fleming, offering his help: "Sir: If it is true that Herr Hess is much influenced by astrology and Magick, my services might be of use to the Department in case he should not be willing to do what you wish."
Crowley's offer of joining the interrogation team wasn't taken up. Yet, he did also suggest that the RAF should drop "occult literature", written by himself, on the Germans as a way of confusing and demoralising the enemy.
In 1952, the same Ian Fleming was writing his first novel entitled 'Casino Royale'. He wanted an arch-villain to rival his new hero, James Bond. The 'wickedest man in the world' was an ideal embodiment of intelligent evil. Hence, Aleister Crowley became the model for the Le Chiffre character.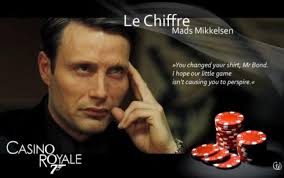 As well as Le Chiffre, the later Bond super-villain Ernst Stavro Blofeld was also supposedly inspired by Crowley – memorable for his white cat and the inventive executions of his underachieving subordinates. Donald Pleasence took the role in 'You Only Live Twice' in 1967, followed by Kojak star Telly Savalas in 1969's 'On Her Majesty's Secret Service'. It's suggested that Crowley's demand that he should be addressed by an aristocratic title he had invented, 'Sir Crowley', was the inspiration for one of the major plot points in 'OHMS'. This was when Blofeld threatens to cause mass destruction if his coat of arms isn't recognised. In 1971 Charles Gray was Blofeld in 'Diamonds Are Forever'.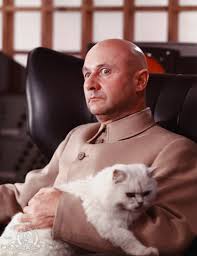 Over the years many of Blofeld's characteristics have become clichés of super villains in popular fiction. For example, we have the stroking of a white cat as a parody of Blofeld's character – note Dr Evil and his cat Mr Bigglesworth in the Austin Powers movies.
Aleister died in Hastings in 1947 at the age of 72. The cause of death was given as a respiratory infection – he had become addicted to heroin after being prescribed morphine for his asthma and bronchitis many years earlier.
Aleister Crowley remains an influential figure among occultists. Variants of his Magical Order still exist throughout the world and his 'Magick' is still practiced. Yet, while some see Aleister as a figure to be revered, others just see him as a self-publicist, an exploiter of vulnerable men and women and a fraud. As a final referennce, here's David Bowie singing about Aleister:
"I'm closer to the Golden Dawn
Immersed in Crowley's uniform of imagery"