A new tree trail is being planted at a range of sites across Torbay to remember all who have suffered during the pandemic and those we have lost to COVID, as well as supporting the Carbon Neutral Torbay agenda of more tree planting.
The COVID Memorial Tree Trail has been led by the local community via the Torbay Greenspace Forum, working in partnership with Torbay Council, SWISCo, and Hi-Line. The trees are being planted by staff from Hi-Line, with support from local Tree Warden volunteers. There are also trees being planted in other community sites such as churchyards and NHS sites.
Torbay Greenspace Forum acts as an umbrella group for the various voluntary Friends of Parks and Gardens groups across Torbay. SWISCo is owned by, and delivers a range of frontline services on behalf of, Torbay Council, including parks and grounds maintenance and Hi-Line is the Council's official contractor for tree management.
More tree planting is a key priority in the Council's Carbon Neutral Action Plan and Policy, recently approved (on 22 March), to help tackle climate change. Advantages of trees includes absorbing and storing carbon emissions, improving local air quality, helping to keep our homes cool, and reducing local flood risk.
Margaret Forbes-Hamilton, Chair of the Torbay Greenspace Forum, said: "When we received the suggestion from the RHS that trees be planted in memory of all who have suffered and those we have lost during the pandemic, we decided to create a trail of trees right across the Bay. This will enable all communities to have a point of focus to remember the suffering, loss, and hardship brought to us all by the pandemic.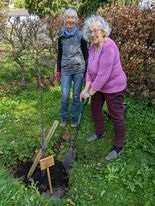 "All the ward councillors and community builders were approached to see if there was support for the idea. There was a very positive response to this living memorial.
"We hope that the Covid Memorial Tree Trail will provide a living legacy for all of us, and that it will bring peace and solace to all who visit the trees over the years to come."
Torbay Greenspace Forum have also purchased plaques to be installed beside each tree, with two thirds of the funding from the Norman Family Trust and the rest from Foster's Fund. The inscription on the plaques reads: "This tree was planted by the community to remember all who have suffered and those we have lost. Torbay Covid Memorial Tree Trail".
Leader of Torbay Council Steve Darling said: "I would like to thank Torbay Greenspace Forum for their hard work in driving this forward and working with our colleagues at the Council, SWISCo, Hi-Line, and of course the Tree Warden volunteers who are helping with this and a range of other projects. This new trail will help us to remember those we lost to COVID as well as helping us to tackle climate change."
Councillor Mike Morey, Cabinet Member for Infrastructure, Environment and Culture for Torbay Council, said: "This is a great community-led initiative and shows what can be achieved when we all work together. We are aiming to increase the green tree canopy across Torbay and next month we are hoping to publish the results from the recent i-Tree survey which looks at how many trees there are across Torbay compared to ten years ago. This survey has been done in partnership by Treeconomics, SWISCo and our local Tree Warden volunteers.".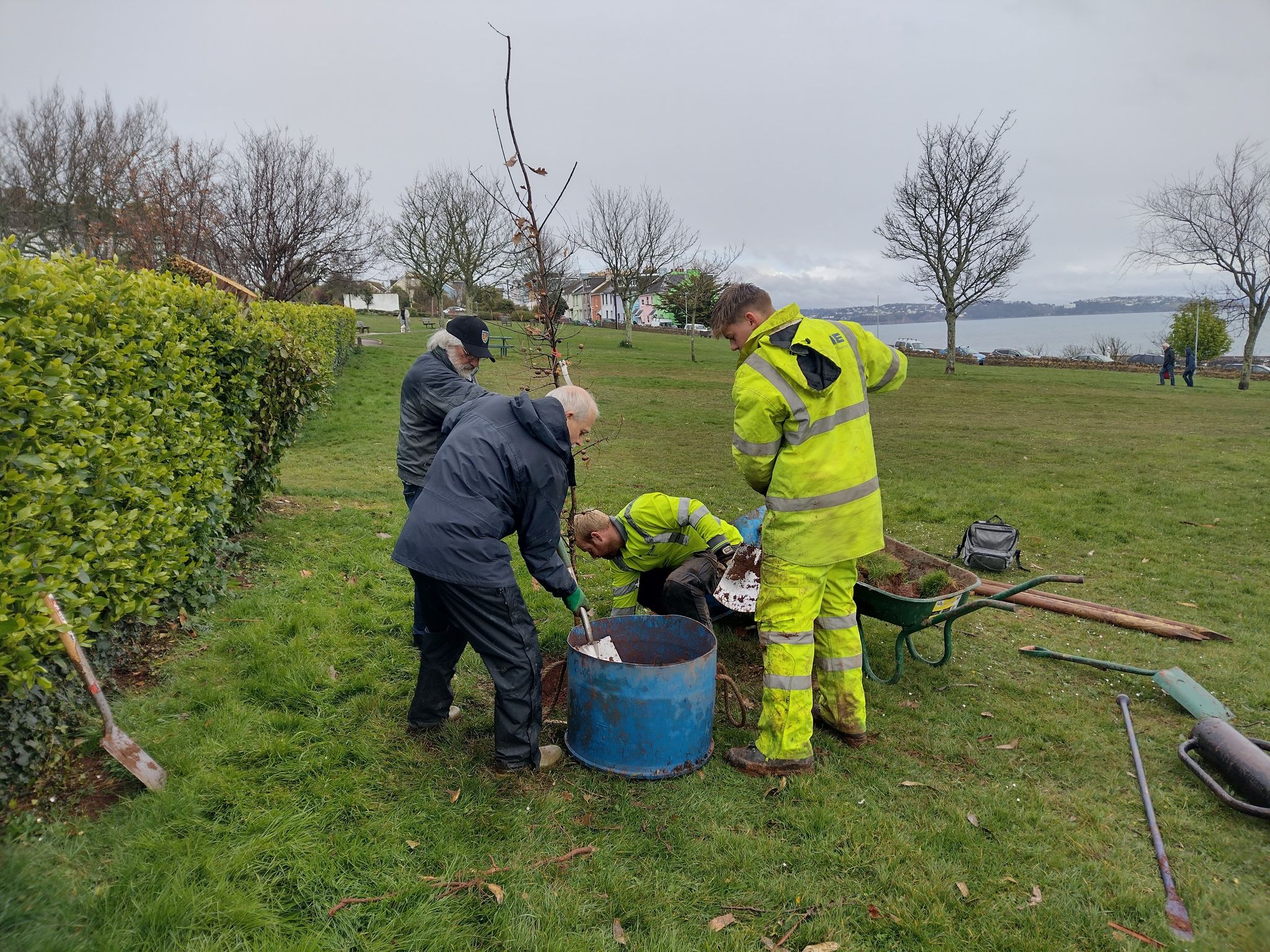 Locations for the tree planting include:
– Brixham area: Brixham cemetery, Brixham Hospital, Furzeham Green, Galmpton Football Club, St Mary's Park,
– Paignton area: Cherrybrook Square, Hollicombe Park, Preston Park, Primley Park, Victoria Park, Youngs Park
– Torquay area: Belmont triangle, Barton Downs, Brewery Park, Cary Park, Crownhill Park, Kitson Park, Longpark, Pretty Park Torwood Gardens, Rowcroft Hospice, Torre Churchyard, Torbay Hospital (Torbay and South Devon NHS Foundation Trust).
Green Café on Wednesday 13 April
Volunteers are also invited to help to plant COVID Memorial Trees and a Queen's Platinum Jubilee Tree at Primley Park in Paignton, that takes place at the next Green Café on Wednesday 13 April between 1pm and 3pm. The Green Cafes are a monthly event led by SWISCo on behalf of Torbay Council, celebrating our green spaces and have a different venue and theme each month. All are welcome to attend but if you do wish to take part, please contact Hannah Worthington first – hannah.worthington@swisco.co.uk or call 07747 616 075.
Tree Wardens
The Tree Wardens is a volunteer scheme led by national charity the Tree Council and coordinated locally by Torbay Council. As well as assisting with the COVID Memorial Tree Trail, Tree Warden volunteers are helping to plant trees for a range of projects in the Bay, including planting at Galmpton Football Club, and a number of nurseries. They've also been involved in workshops to help plan where future trees might be planted across the Bay and also assisted with the recent i-Tree survey.
Other work Tree Wardens will be getting involved with includes pruning, watering, plus planting from seed, surveying and monitoring trees and hedgerows, and helping to identify future tree planting sites.
You can find out more about the Tree Warden volunteer scheme at www.torbay.gov.uk/treewardens
Whilst you're here:
Did you know we rely on local businesses and the community to help keep us online? Our community website is an alternative to the mainstream media – For the people, by the people. You can help us stay online by becoming a supporter on Facebook. In return, you will have access to exclusive content. Click here for information.
You can join us on our social media pages, follow us on Facebook or Twitter and keep up to date with whats going on in South Devon.
Got a news story, blog or press release that you'd like to share or want to advertise with us? Contact us