The Coastguard were called to reports of two dogs that had fallen over a cliff at Red rock near Dawlish last night.
Teignmouth Coastguard were backed up by Torbay Coastguard.
The incident happened at around 6.45pm.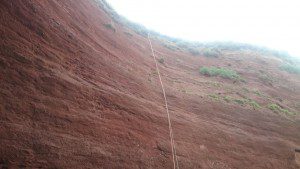 Posting on Social Media, Torbay Coastguard said:
"We were called this evening to back up Teignmouth Coastguard to reports of two dogs over the cliff at Red Rock.
"Two cliff Technicians where lowered to the dogs position, the first dog was recovered using our dog rescue bag, The second dogs recovery was a bit more tricky due to its injuries.
"Both dogs were reunited with their owners who took them for medical checks"