Paignton Zoo's rare Sumatran tiger Shakira is learning to be a mother the hard way. She gave birth to three cubs on 31st May. Sadly, one died on day 9 or 10 and at about 4.15am on day 24 she inadvertently slept on top of one of the remaining cubs. She was seen on CCTV licking both when she awoke at around 6.30am, but regrettably only one was alive.
Paignton Zoo Curator of Mammals Neil Bemment: "It is not uncommon for one of a litter of more than two not to survive. Big cat mothers are usually the first to know if there is something inherently wrong with their new-borns and whether or not they should invest time and energy in rearing them. We will never know why the first one died. Shakira may have lain on that one too, or maybe it was weaker and not getting its fair share of milk.
"In the case of this second cub it is all the more frustrating as Shakira had been paying a lot of good maternal attention to both babies, but obviously could not feel it beneath her as she slept. Hopefully, with just the one cub to focus on she will take more care and it will get to see its public debut."
These were the first tiger cubs born at Paignton Zoo since 2009. All being well, visitors might be able to see the surviving cub during the summer holidays. Male Fabi remains on show to the public.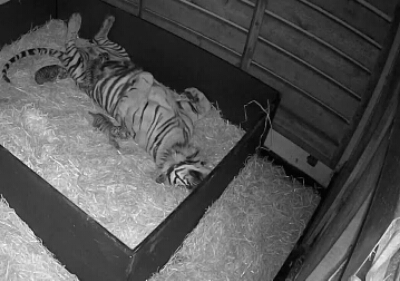 The third cub is almost one month old. Neil: "Its eyes are now open and, although it is a bit wobbly on its paws, it is becoming more mobile. In spite of her momentary lapse, Shakira is still in the main being a good mother. While visitors cannot see the cub directly, there arescreens showing video footage at the tiger viewing area and in the entrance hall."
Females typically give birth to between 2 and 4 blind cubs after about 103 days. The cubs can weigh about 1 kilo (2 pounds) at birth. They live on their mother's milk for 6 to 8 weeks before moving on to meat, but remain dependant on their mother for about a year and a half; they can start hunting on their own at this age.
Paignton Zoo is a member of the European Endangered species Programme (EEP) for Sumatran tigers, which means it is part of the global effort to save this endangered species from extinction. Captive and wild populations are protected and managed in an attempt to prevent Sumatran tigers following the Bali and Javan tigers into extinction. Paignton Zoo Environmental Park is a registered charity. For more information go to www.paigntonzoo.org.uk or ring (01803) 697500.